Coconut oil smoothies are a refreshing drink option, especially on a warm day. Smoothies are mostly liquid and are a tasty way to maintain proper hydration. In fact, the ingredients inside this coconut oil smoothie provide a healthy dose of nutrients too!
Benefits of Drinking Coconut Oil Smoothies
As mentioned before, the coconut oil smoothie is an easy way to consume some healthy foods. This is also a good opportunity to use some produce that is about to go bad. Frozen fruits and vegetables are an easy option to use when preparing this coconut oil smoothie.
This recipe is a great option for busy days when you are short on time. In addition, you can make your smoothie ahead of time and store it in the freezer or the refrigerator.
The coconut oil inside of this smoothie contains healthy fatty acids that benefit the body in several ways. For example, they can give energy to your body and brain, elevate HDL (good) cholesterol in the blood, and aid in lowering heart disease risk.
This coconut oil smoothie recipe makes 1 14-oz serving. Take a look at the recipe below to find out how to make this tasty and nutritious coconut oil smoothie.
Ingredients for Coconut Oil Smoothies
The coconut oil smoothie only requires a few simple and healthy ingredients!
Let's take a look at the ingredients:
medium banana
spinach
coconut oil
ground flaxseed
3-5 ice cubes
unsweetened soy milk
whipped cream
(Optional) 1 serving vanilla protein powder
To raise the calorie content of any coconut oil smoothies you make, choose ingredients that are high in calories. You can do this by picking a high fat milk if you are not lactose intolerant.
A Closer Examination of the Ingredients
A medium banana has significant amounts of potassium, fiber, and vitamin B6. Potassium aids in the regulation of fluid balance, muscle movement, and nerve signals. Fiber allows easier digestion. Vitamin B6 improves mood, elevates brain health, and helps reduce heart disease risk.
Spinach is very nutrient dense because it provides notable levels of vitamin K, vitamin A, vitamin C, folate, iron, magnesium, potassium, and calcium. In fact, these can help with bones, immunity, skin, red blood cells, and DNA.
One tablespoon of flaxseed gives a great amount of protein, fiber, and omega-3 fatty acids. The health benefits of flaxseed are mainly from the omega-3 fatty cids, lignans, and fibers. The type of omega-3 fatty acid in flaxseed has been linked to lower heart attack risk.
Soy milk is packed with vitamin, minerals, and antioxidants that provide important health benefits for the body. Additionally, the B vitamins can help prevent anemia and fatigue. The plant-based protein in soy milk can aid in supporting the muscles and organs.
How to Make Coconut Oil Smoothies
Preparing coconut oil smoothies is quick and easy! First you need to measure and add the ingredients into a blender. Then blend the mixture until the banana and ice has a smooth consistency. Finally, pour everything into a cup, top with whipped cream and enjoy!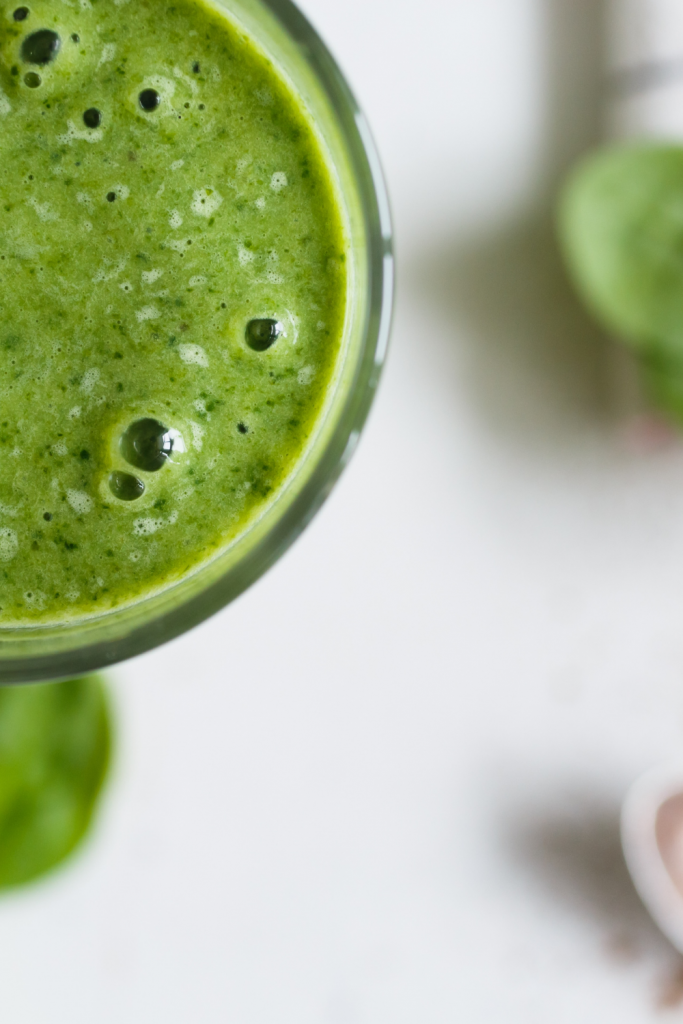 Possible Substitutions in Coconut Oil Smoothies
If you're getting tired of the flavor, or if your don't prefer some of the listed ingredients, making changes can be easy and keep your smoothie exciting. Changing out the fruit can make the biggest difference.
Medium Banana Variations:
Use 1/2 cup:
Mango
Strawberry
Blueberry
Orange
Raspberry
Blackberry
Kiwi
Passion Fruit
Spinach Variations:
Arugula
Swiss Chard
Broccoli
Celery
Parsley
Chinese Cabbage / Bok Choy
Of course, you can come up with more combinations of your own when making your coconut oil smoothies! The ideas above are just to help you get started!
Likewise, if you are seeking more variety in your smoothies, click on this link to The Geriatric Dietitian. The article provides a lot of information and ideas on how to make high calorie smoothies.
What Food Goes Well with Coconut Oil Smoothies?
Pairing up chocolate rice cakes with coconut oil smoothies can be a tasty combo of chocolate and banana! They can be a lower sugar substitute for cookies.
Peanuts and dried cranberries paired with coconut oil smoothies is a great flavor combination! You get sweet and salty along with a good source of protein that will help provide you with energy throughout the whole day.
Another delicious food you could include with your coconut oil smoothies is edamame. They provide you with a different texture to complement your smoothie. Mixing them with some chili powder and sea salt will definitely give you an extra flavor punch!
Guacamole and carrots with coconut oil smoothies can be paired for a tasty snack. Replacing tortilla chips with veggies adds more nutrients.
Another delicious pairing is peanut butter banana sandwich with coconut oil smoothies!
How to Store Coconut Oil Smoothies?
Pour any coconut oil smoothies you would like to store into a container with an airtight lid. Make sure the container is filled all the way to the top to prevent air space. Store your smoothie in the refrigerator for a day or freezer for up to a month. If you enjoyed this recipe, try our high calorie banana shake.

Coconut Oil Smoothie
The Coconut Oil Smoothie is a refreshing smoothie that will help you hydrate while providing plenty of calories to prevent weight loss.
Ingredients
1

banana

medium

1

handful

spinach

1

Tbsp

coconut oil

1

Tbsp

ground flaxseed

1

cup

soymilk

unsweetened

3-5

ice cubes

2

Tbsp

whipped cream
Instructions
measure and add ingredients to blender in the order of the ingredient list.

Blend until ice and ingredients are a smooth consistency

Pour into a glass, top with whipped cream, and serve
Notes
*Use any preferred milk, high fat dairy milk will add more calories.
*Add a scoop of vanilla protein powder to increase the protein and change the flavor.
Nutrition
Calories:
399
kcal
Carbohydrates:
39
g
Protein:
11
g
Fat:
24
g
Saturated Fat:
14
g
Cholesterol:
7
mg
Sodium:
148
mg
Potassium:
993
mg
Fiber:
7
g
Sugar:
21
g
Vitamin A:
3878
IU
Vitamin C:
36
mg
Calcium:
394
mg
Iron:
3
mg