Here is a scrumptious garlic butter pasta that is easy to make and high in calories. This basic recipe can be customized to meet any preference and provides a good amount of energy!
Benefits of Eating Garlic Butter Pasta
As previously said, this pasta is an excellent choice in giving you an energy boost. This is because pasta is mainly composed of carbohydrates, and these give the body its main source of energy.
Pasta is, in general, usually pretty filling and this pasta is not only filling, but loaded with calories. Therefore, it will can help with weight gain and the prevention of weight loss. Eating this pasta will also keep you from having to reach for something else to munch on for a while.
Pasta is a pretty versatile dish to make! It can be served as a starter, a side dish, or the main dish. There are so many possible shapes for pasta to come in: bow ties, shells, ribbons, tubes, bowls, and ravioli. This allows plenty of ways to change up the texture and look garlic butter pasta! Some pasta shapes may be easier for you to chew or swallow, so you may need to try a few or choose one you know will work for you.
When making your garlic butter pasta, using whole-grain pasta can provide many health benefits. This type of pasta can aid in protecting you from specific types of cancer, especially stomach and colon cancer.
In general, pasta is likely to help keep your blood sugar under control. Glycemic index (GI) measures how quickly sugar arrives into the bloodstream. Healthy diets with food containing a low GI value may aid in preventing diabetes and obesity, and pasta has a low GI.
Ingredients
This garlic butter pasta contains only around four to five ingredients, so it is a pretty simple recipe to prepare! 
Below are the ingredients needed:
1/2 box spaghetti of choice
1 stick of butter
1T canned garlic
1T Italian seasoning
Optional: Add cooked meat of choice
To increase the number of calories for the garlic butter pasta, you should select ingredients that have more calories. You can do this by picking a higher fat butter and avoiding any low-fat variants of any ingredients for this recipe.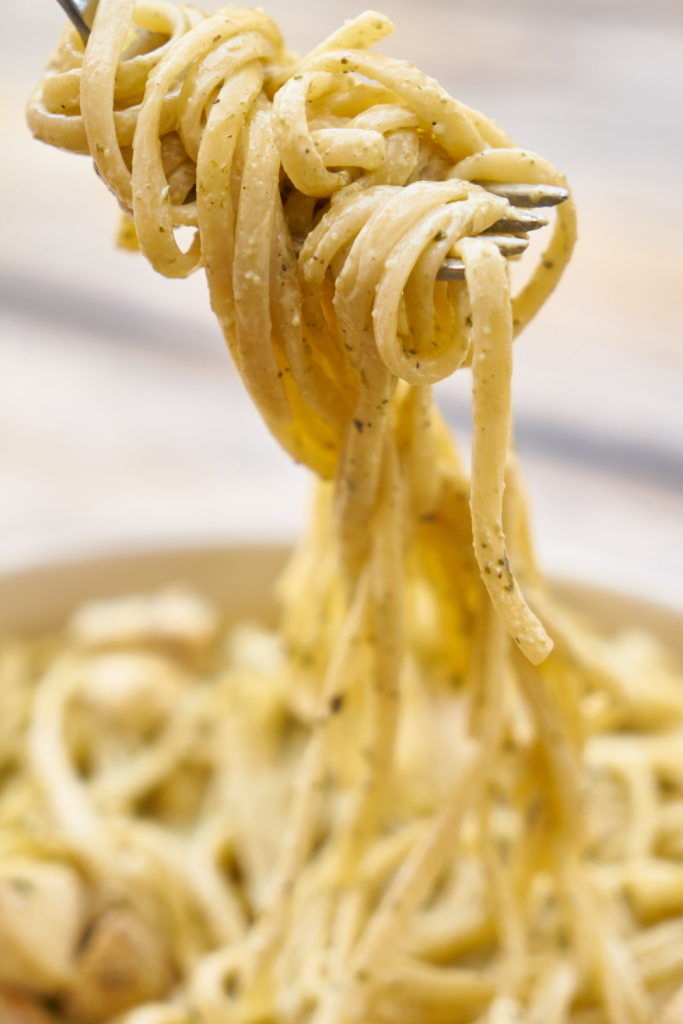 When to Eat Garlic Butter Pasta
This pasta is a great option for meals and snacks. Any time of day is possible if you really love pasta. Eating a high calorie meal at dinner can give your body time to absorb more calories while you are resting and help you gain more weight. If you are interested in more ways to gain weight, check out the article Why am I Not Gaining Weight? on the Geriatric Dietitian Blog,
Many athletes decide to eat of carbs hours before a big athletic event because it provides an energy boost. Even if you are not an athlete, eating garlic butter pasta a few hours before exercising may be a good way to give yourself more energy for the workout. 
How to Make Garlic Butter Pasta
Putting together this dish only takes about 15 minutes! Follow the directions on the pasta box when preparing it. While the pasta is boiling, heat 1 stick of butter with 1T garlic in a microwave safe bowl until the mixture is mostly liquid.
Then remove the bowl from the microwave and whisk while adding Italian seasoning. Drain the pasta. Pour the garlic butter into a skillet and add pasta. Mix everything thoroughly before serving.
Optional Changes
For something that tastes different using the same basic recipe, you can make a few substitutions to the ingredients. This way, the flavor of the entire dish changes significantly.  
Spaghetti
Gluten Free
Veggie
Whole Wheat
Chickpea
Etc.
Meat
Chicken
Ham
Turkey
Sausage
Bacon
Etc.
What Dishes Should I Pair with Garlic Butter Pasta?
A salad definitely goes well with garlic butter pasta! Not only do you get an extra crunchy texture, but you also get a serving of nutritious vegetables. Make your salad more exciting by adding fun items like drained canned beans, chopped fruit, nuts or seeds, as well as plenty of colorful veggies. Because the pasta dish is so simple, the addition of other colors, textures, and flavors will make the meal more enjoyable. 
Spinach and cheese stuffed chicken is another possible pairing with the pasta. All together this gives you vegetables, dairy, protein and carbohydrates. Now that is a pretty balanced meal!
Another delicious side dish to enjoy with your pasta is a salad pizza. If you don't enjoy salad on its own, then this is an excellent compromise because it takes salad and adds a whole new flavor and texture component.
Meatballs with tomato sauce is a well-known item to pair up with pasta. All you have to do is combine ground beef and pork with tasty seasonings (pine nuts and red-pepper flakes for example) before shaping into balls. Then you can bake them or simmer them in a skillet on the stovetop with sauce until fully cooked through.
A slice of our high calorie summer vegetable frittata would pair well with this dish and add protein and vegetables to make the meal more interesting,
How to Store Your Pasta?
Place any leftover pasta in an airtight container in the refrigerator. Make sure to consume the food within 1-2 days. Storing the garlic butter pasta with the sauce allows more flavor to marinate the pasta.
Onwards to the recipe! Follow the directions below to make garlic butter pasta.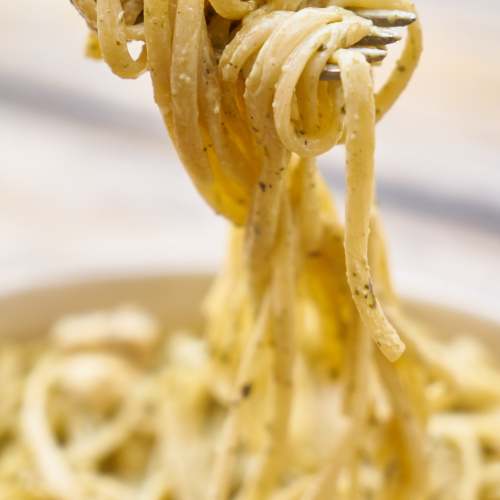 Garlic Butter Pasta
Here is a scrumptious garlic butter pasta that is easy to make and high in calories. Full of rich garlic flavor, this garlic butter pasta will satisfy anyone!
Ingredients
1//2

box spaghetti

of choice

1

stick of butter

1

Tbsp

minced garlic

1

Tbsp

Italian seasoning

Optional: Add cooked meat of choice
Instructions
Make pasta according to directions on the box, drain, and set aside.

Melt 1 stick of butter with 1 Tbsp garlic in a microwave safe bowl. Remove from the microwave and whisk. Add Italian seasoning.

Dump garlic butter into skillet and add pasta.

Mix well and serve.
Notes
*You can use gluten free pasta. To make the whole box, double the recipe.
Nutrition
Calories:
281
kcal
Carbohydrates:
58
g
Protein:
10
g
Fat:
32
g
Saturated Fat:
19
g
Trans Fat:
1
g
Cholesterol:
81
mg
Sodium:
5
mg
Potassium:
42
mg
Fiber:
5
g
Sugar:
3
g
Vitamin A:
37
IU
Vitamin C:
1
mg
Calcium:
32
mg
Iron:
1
mg