Vanilla Tea Latte
Nothing is better than a hot cup of tea on a rainy day, except for this Vanilla Tea Latte! Make your day cozier with this delicious high calorie Vanilla Tea Latte.
With simple ingredients, you can whip up this easy to make latte at home in no time! It is great for cold days, rainy mornings, or an afternoon pick me up.
Benefits of Tea
Drinking tea regularly has many associated health benefits, some of which are still continuously being studied!
Black, green, and oolong teas all contain something called polyphenols, which are naturally occurring compounds. They are antioxidants, which are part of helping to defend against UV radiation, or aggression from pathogens in the body.
Polyphenols are found most in fruits and vegetables, and even some cereals and beverages.
There are many studies that suggest that continued consumption of polyphenols in the diet can offer protection from many diseases including cardiovascular disease, stroke, diabetes, neurodegenerative diseases, or even cancer.
Green tea has been suggested to have a higher antioxidant punch than other tea varieties like black or oolong. It also has the lowest caffeine content between the three varieties at about 29 mg per cup.
Our Vanilla Tea Latte recipe uses black tea, which has the highest caffeine content out of the different varieties.
As with everything, consume caffeinated tea in moderation. Drinking too much caffeine can cause disruptions to your sleep, restlessness, or nervousness. Try not to exceed 400 mg of caffeine per day to avoid nausea, heartburn, muscle pain, and other side effects.
It is also best to avoid drinking caffeine in the evening, or right before bed, because it can make it hard to fall asleep or stay asleep. Getting good rest affects our food choices the next day!
Herbal teas or decaffeinated teas are fantastic alternatives to your favorite caffeinated varieties!
Why High Calorie Drinks are Beneficial for Gaining or Maintaining Weight
Gaining and maintaining weight is already a hard task, and can be even harder if you do not have an appetite or are on medication that suppresses your appetite.
Adding in high calorie drinks, like this Vanilla Tea Latte, are a great way to add in extra calories to your day.
There are many reasons why someone might need to gain or maintain weight. People with a reduced appetite from depression, aging, illness, or medications can benefit from gaining weight.
Other reasons someone may need to gain weight is because they are malnourished, underweight, or are suffering from unintended weight loss. Some people also have a hard time chewing food and/or swallowing, and this can lead to weight loss.
High calorie drinks are a great way to get in an adequate amount of calories throughout the day, without the need to chew or eat something very filling. They are great for those with low or suppressed appetites to contribute to their overall calorie intake.
Need more high calorie options? Check out our Ebooks including High Calorie Shakes!
Ingredient Alternatives for Vanilla Tea Latte
This Vanilla Tea Latte is delicious as is, but if you need to swap any ingredients here are some options!
Tea: This recipe calls for any black tea variety which includes; Earl Gray, Chai, English Breakfast, or plain black tea.
Swap: Try switching black tea with Oolong, White tea varieties, or even Green Tea!
Milk: Need a dairy free option?
Swap: Oat milk is a fantastic alternative for this tea latte! You can also try almond milk or macadamia nut milk.
Sugar: This recipe calls for regular white cane sugar, but for low glycemic options or alternative options try our swaps!
Swap: maple syrup, coconut sugar, and date syrup are all great low GI options. Honey, raw cane sugar, or even brown sugar are also delicious options for this recipe!
Vanilla Extract: If you do not like vanilla, you can always omit this ingredient!
Swap: For something different, try maple extract, coconut extract, or almond extract!
Vanilla Tea Latte Ingredient Health Benefits
We have already learned about the benefit of drinking tea, but what about the other ingredients in our delicious Vanilla Tea Latte?
Our first ingredient, milk, is a great source of protein and calcium. Some milk products are fortified with certain vitamins, like vitamin D, making them a great source of it!
Vitamin D works with calcium in the body to maintain the proper levels of it and phosphorus. This, in turn, helps to build and maintain bones!
Sugar is an ingredient many of us assume does not contain any nutritional value. However, in moderation, sugar is a delicious additive to many foods, is high in calories, and gives our bodies energy in the form of glucose!
What to Pair with Vanilla Tea Latte
This Vanilla Tea Latte is a delicious choice for a morning or afternoon pick me up! Try our pairing options and enjoy with your latte!
A well balanced breakfast can set you up for a focused and productive day! Have your cozy Vanilla Tea Latte with eggs, bacon, and fruit, or with a bowl of warm oatmeal and fruit with honey on those chilly mornings.
If you're in need of some energy in the afternoon, try our Vanilla Tea Latte with yogurt and a handful of nuts, or with our Fall Pumpkin Bread with cream cheese.
For a bedtime option, try our Vanilla Tea Latte with your favorite herbal tea, like chamomile, and a couple of cookies for a treat!
How to Make Vanilla Tea Latte
Bring water to a boil with an electric kettle, tea kettle, or with a saucepan filled with water over high heat. Place your tea bag into a mug and pour ½ cup of the boiled water over the tea.
Let steep for 5 minutes or as stated on the package.
Heat the milk in the microwave or over the stove on medium heat. Remove the tea bag from the mug and stir in the sugar. Pour steamed milk into the mug over the tea. Add the vanilla extract.
Stir, and enjoy in a comfy chair with a cozy book!
Let's Check Out the Recipe!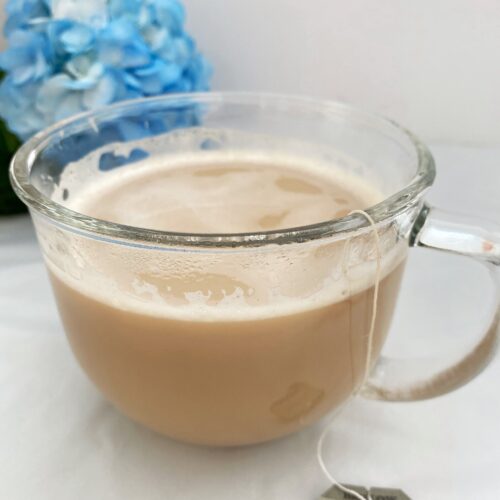 Vanilla Tea Latte
Cozy up with our delicious, high calorie, vanilla tea latte!
Ingredients
1/2

cup

water

1

bag

black tea

(Earl Grey, Chai, English Breakfast)

1

cup

whole milk

1

tbsp

sugar

1/2

tsp

vanilla extract
Instructions
Bring water to a boil in a tea kettle or small saucepan over high heat.

Place teabag into a large mug and pour water over tea bag. Steep for five minutes.

Heat milk until it is hot, either in the microwave or over medium heat in a small saucepan until it comes to a simmer.

Remove the teabag and stir in sugar until it's dissolved. Pour the milk into the tea.

Add the vanilla extract and stir.
Nutrition
Serving:
1
drink
Calories:
198
kcal
Carbohydrates:
24
g
Protein:
8
g
Fat:
8
g
Saturated Fat:
5
g
Polyunsaturated Fat:
0.3
g
Monounsaturated Fat:
2
g
Cholesterol:
29
mg
Sodium:
99
mg
Potassium:
370
mg
Sugar:
24
g
Vitamin A:
395
IU
Calcium:
304
mg
Iron:
0.01
mg