*This page includes affiliate links. As an Amazon Associate I earn from qualifying purchases.
Are you looking for a weight gain shake that doesn't contain peanut butter? Maybe you have an allergy to peanuts or just want to switch things up?
Then our almond butter weight gain shake is for you. It's easy to make, super tasty, and jam packed with calories. Over 1,000 calories to be exact.
Nut Butters and Weight Gain
Nut butters are excellent for weight gain. Nuts are high in calories and heart healthy fats. This is why you traditionally see peanut butter in high calorie recipes. It adds a punch of calories. Is heart healthy. And even has some protein!
While this recipe is focused on almond butter*, you can use any of these nut butters as a substitution:
Almond butter contains just over 1,500 calories per cup. That's a lot! Now eating that much nut butter in one sitting isn't very realistic. Our recipe uses 1/4 cup of almond butter.
For reference, most nut butters contain the same amount of calories per volume.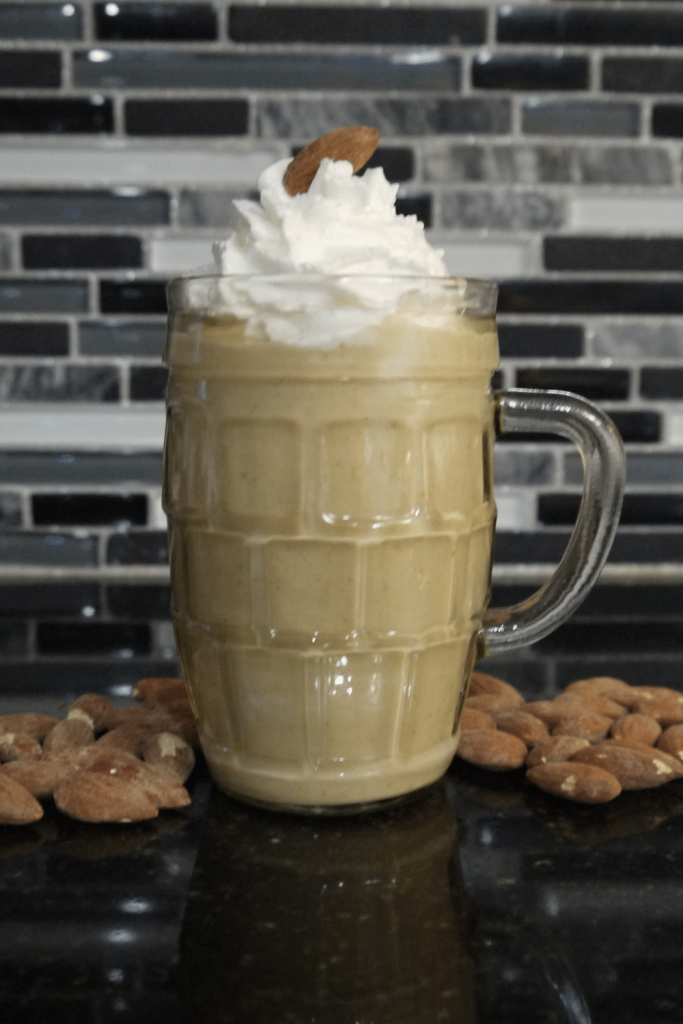 The Best Blenders
When I make shakes and smoothies, I find that having a good blender is key. A strong blender saves you time and frustration trying to get your shake to mix well.
My favorite blender of all time is my Vitamix*. It is so powerful you can even make your own almond butter from whole almonds for this recipe.
Another blender I really like is the Magic Bullet*. You can make a single serving shake. And serve it in the same container you blended it in!
For this recipe, the shake won't fit in one cup. So, you would have to cut the recipe in half if you make it in the Magic Bullet. But, it is still a great kitchen appliance!
When to Drink Weight Gain Shakes
We recommend drinking weight gain shakes in-between meals. If you drink one with a meal you may get so full that you can't finish your nutritious meal.
Now if you have a poor appetite and can't eat a full meal, you can certainly drink your shakes at any time or in replacement of a meal.
Spreading out how much you eat throughout the day is ideal. Think of this as six small meals or 3 meals plus 2-3 snacks per day. This ensures you get the most amount of calories in a day.
Almond Butter Weight Gain Shake
Let's get to our almond butter weight gain shake! Follow the instructions below and enjoy this tasty shake. Best of luck gaining weight.
And if you are interested in getting more weight gain shake recipes, check out our High Calorie Banana Shake recipe and our High Calorie SHAKES e-Cookbook!

Almond Butter Weight Gain Shake
A tasty, high calorie alternative to traditional peanut butter shakes. For those with peanut allergies or those just wanting to switch up their high calorie shake routine!
Ingredients
3/4

cup

half and half

1

cup

vanilla ice-cream

1/4

cup

almond butter

2

tbsp

honey

whipped cream

as desired
Instructions
Add half-and-half, ice-cream, almond butter, and honey to a blender.

Blend ingredients until smooth.

Pour into a glass and top with whipped cream, as desired.
Nutrition
Serving:
1
glass
Calories:
1021
kcal
Carbohydrates:
85
g
Protein:
23
g
Fat:
70
g
Saturated Fat:
25
g
Cholesterol:
125
mg
Sodium:
186
mg
Potassium:
988
mg
Fiber:
7
g
Sugar:
66
g
Vitamin A:
1199
IU
Vitamin C:
3
mg
Calcium:
579
mg
Iron:
3
mg