Feeling under the weather? Or just feeling tired of the cold weather? Then you'll want to give this warm and nutritious lentil soup high protein a try!
The high protein content of this soup comes from the powerhouse combination of lentils and quinoa, which makes this soup a great plant-based option for those wanting to get a little more veggies into their day.
All About Legumes
You may have heard a lot about the food group, legumes. But what really are legumes? And why should we care about them?
Legumes refer to the plant that bears its seeds in pods. The seed (also called a pulse) is what we generally eat. And we typically divide legumes into four categories: beans, lentils, peas, and peanuts.
These different categories of legumes are undoubtedly different in taste, use, and of course, nutrition. But all are great choices to include in your diet. And this is because all are great sources of plant-based protein and dietary fiber. Especially beans and lentils.
In one cup of cooked lentils, you'll find around 18 grams of protein and 16 grams of dietary fiber!
But hold on, you say, that much fiber in that amount of beans or lentils is sure to create a terrible amount of digestive upset and gas, right?
Legumes and Digestion Upset
For many, legumes can cause some problems with digestion upset. But there are plenty of ways to get around it.
Firstly digestive difficulty with legumes (and most highly fibrous foods) is a sign of a weak microbiome, or the amount of good bacteria in your gut that your body needs to help break down all of your food.
The best way to build this microbiome back up is, you guessed it, eating more fibrous food to support the proliferation of healthy gut bacteria.
But in the meantime, to make the process of eating legumes a little more pleasant, there are few other tricks you can try.
Rinse your canned beans before cooking or eating. This eliminates the "bean juice" that contains a lot of the hard-to-digest compounds from the legumes.
Soak and cook your own beans. Soaking the beans before cooking also eliminates a good amount of the indigestible fiber of legumes.
Sprout your beans before cooking.
Sprouting 101
Sprouting refers to the process of letting the seed germinate. Essentially, it will begin to grow a little sprout, just as if it were growing in the ground. But don't worry, you don't actually have to plant it to sprout your food.
Firstly, you can sprout legumes, grains, nuts, and seeds because they are all the seed of the plant that would spawn a new plant in the right conditions.
In the process of sprouting, the seed breaks down some of its own material, like the indigestible fiber and a compound called phytate. This makes the legume easier for us to digest (less gas causing), as well as increases the amount of nutrients your body will absorb from the food.
Pretty cool, right? And the process of sprouting is really easy. It just takes a little time.
To sprout legumes:
Soak the desired amount in a glass jar or container for at least 8-10 hours.
In a mesh sieve, rinse the seeds and place in the same container or leave in the sieve to begin sprouting.
Rubber-band the glass jar with a breathable cloth and place upside down on a dish rack to allow draining. Alternatively, leave the legumes in a sieve covered with a damp paper towel or cloth.
Rinse the legumes 1-2 times a day until sprouts form.
Once the sprouts are about ¼ inch long, the legumes are ready to be used.
You can consume the sprouted legumes raw, but cooking them at this stage is recommended to unlock all the good nutrients, flavor, and texture they have to offer.
Be sure to store leftover sprouted legumes in the fridge to stop the sprouting process.
This recipe doesn't call for sprouted legumes, but we wanted to share the process with you!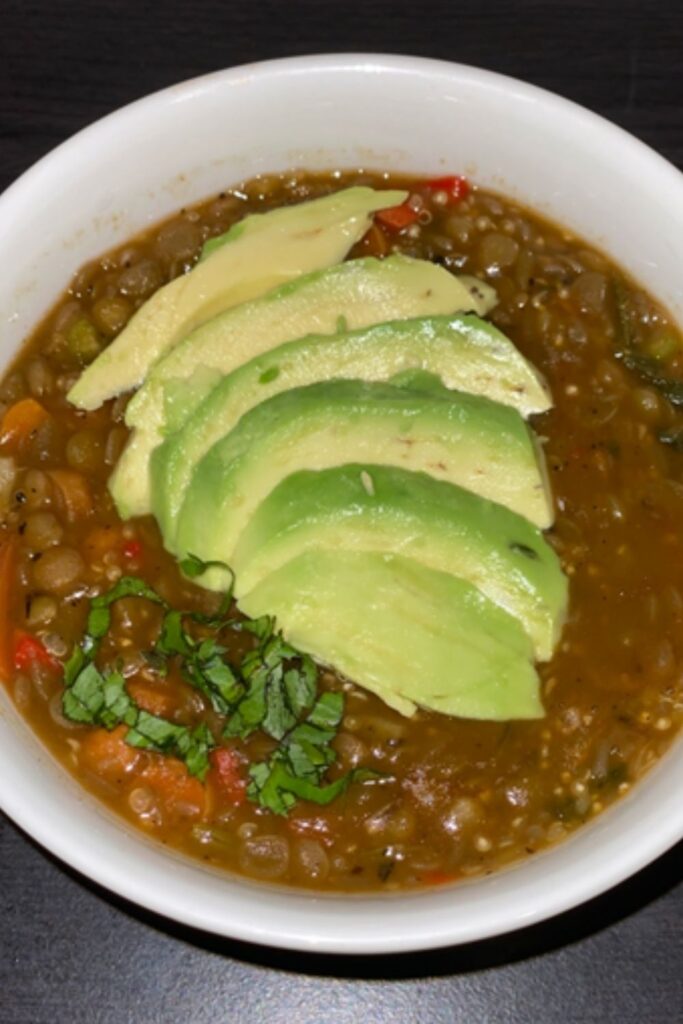 What Exactly is Quinoa?
So the next question you might have is what is all this quinoa business? And how do you even pronounce this food?
Well, to help you out with the second question, it's pronounced "keen-wah." And the reason you hear so much about it is because of its popularity as a gluten free "grain."
Quinoa is cooked the same way you would cook a grain and can be used just as you would use a rice, bulgar, oats, and any other type of grain you like. But quinoa is special in that it is technically a pseudo grain, since it is not related to wheat.
This means that quinoa is a naturally gluten free and is a great substitute for those who do not tolerate wheat grains.
Quinoa is also special in that it contains a high amount of protein. One cup of quinoa has just over 8 grams of protein. Not to mention, it's a great source of dietary fiber, folate, iron, magnesium, and zinc.
If you haven't tried quinoa yet, it also has a deliciously nutty flavor with great texture. And itt definitely lives up to all the spotlight.
Substitutions
As written, this recipe for high protein lentil soup will not steer you wrong. But in case you have a few preference or accessibility concerns about the ingredients listed, fear not! There are always a plethora of ways to make a recipe work for you.
So, all that talk about lentils and quinoa was great, but what if you simply do not like either ingredient, or do not want to make a special trip to the store? No problem. You can use whatever bean you prefer or have on hand, as well as grain.
Some suggestions for legume and grain swaps for this high protein soup include: black beans, kidney beans, black-eyed peas, rice, bulgar, and teff.
All the same cooking steps will apply, but do note larger beans and/or grain may require a bit more cooking liquid and time.
You might have noticed that this high protein lentil soup also calls for bouillon cubes. If you do not have these on hand or are conscious of your sodium intake, you can either omit these cubes and season to taste, or you can use chicken or vegetable broth.
Cubanelle pepper may also be hard to find depending on where you are located. Any other kind of sweet, mild, or spicy pepper will do in its place. However, feel free to omit it altogether, if peppers are not for you.
And lastly, I'll comment on the cilantro. Yes, it's true that some people just don't like cilantro. If you fall in this camp, feel free to omit the cilantro, or use whatever fresh herb you prefer.
Cooking should always be about pleasing your palate and needs first and foremost.
Lentil Soup High Protein
Without further ado, here is our lentil soup high protein recipe!
And if you love soups, be sure to check out our other high calorie soup recipes:

Lentil Soup [High Protein]
This delicious lentil soup is high in protein and full of nutrients.
Ingredients
1

tablespoon

olive oil

1

clove

garlic

chopped

1

cup

red onions

chopped

1

cup

red pepper

chopped

1/2

cup

cubanelle pepper

chopped

1

cup

carrots

chopped

4

cups

water

8

ounces

lentils

uncooked

2

tablespoons

tomato sauce

1

cup

celery

chopped

1

cup

cilantro

chopped

2

cubes

vegetable bouillon cubes

1.5

cup

white quinoa

salt

to taste

pepper

to taste

1

medium

avocado

sliced
Instructions
Pour the olive oil in pan in medium heat.

Add the garlic until browned.

Then add onion, peppers, carrots and sautee until soft.

Add 4 cups of water and let it boil.

Add the lentils, tomato sauce, celery, cilantro,vegetable bouillon, reduce the heat to medium-low, let it cook for 15 minutes,stir occasionally.

After the lentils are almost tender, add the quinoa and salt and pepper to taste,

Cover and cook for another 10 minutes, stirring occasionally.

When the lentil and quinoa are already soft enough and the soup is at your desired texture, turn heat off and serve topped with sliced avocado.
Notes
If you want to add more protein, add cook shrimps or chorizo to the soup.
Nutrition
Serving:
0.25
recipe
Calories:
600
kcal
Carbohydrates:
91
g
Protein:
26
g
Fat:
16
g
Saturated Fat:
2
g
Polyunsaturated Fat:
4
g
Monounsaturated Fat:
9
g
Sodium:
194
mg
Potassium:
1530
mg
Fiber:
28
g
Sugar:
8
g
Vitamin A:
7102
IU
Vitamin C:
78
mg
Calcium:
114
mg
Iron:
8
mg