That's right. Guacamole-salsa. It's not guac or salsa, it's both! And it's a delicious marriage of the two favorite dips.
Why slave over making both guacamole and salsa, when you can just combine the two. With the same general ingredients, you'll be kicking yourself that you never tried this sooner!
All about that avocado
Nowadays avocado is quite popular. We put it on toast, in sandwiches, on tacos, and use it for a delicious chip dip. But not everyone knows about where this strange looking fruit, yes fruit, comes from and why you should plan to eat more of it.
Firstly, the avocado is considered a stone fruit, thanks to the large pit in the center. It is native to south-central Mexico and is thought to have been cultivated by the ancient Aztecs.
In ancient times, the avocado was named after its similar appearance to the male testicle and was also thought to provide power to warriors.
Fast forward a few thousand years, we now know the one-of-a-kind fruit to be a powerhouse of nutrition. Keep reading to find out just how!
How to Grow Avocados
The avocado grows best in warm climates and is cultivated primarily in California and Florida. But within the U.S., you will also see plenty from Mexico. Avocados grow year round in Mexico due to the tropical climate, .
Avocados are known in the industry as the "green gold." This is the reason your guacamole "is extra" at your favorite burrito bowl chain.
Avocado trees can take up to five years to mature and bear fruit. They also require lots of water and a warm climate. Basically, avocados are high maintenance fruit and their price reflects this.
Depending on the seasonal availability, variety of avocado and where you are, avocados can range from $0.50 – $4.00 per fruit. You can find about 5 main varieties in the USA.
It can be a hefty price, but nutrition-wise, avocados are definitely worth the splurge. Avocado is one of the best real foods to help you gain weight. Check out this article here from The Geriatric Dietitian on other real foods that are good for weight gain.
Nutrition facts on avocado
The avocado once got a bad rep because of its high fat content. This is a grave misconception.
The trans fat and saturated form of fat found in highly processed foods and animal products are linked to the top chronic diseases. Avocados are composed of unsaturated fat.
They contain polyunsaturated fats, and even more so, monounsaturated fats. Enjoy both types of unsaturated fats to help lower LDL cholesterol and help to moderate blood sugar.
Consuming adequate amounts of unsaturated fats throughout the day is highly recommended. Avocado is a great way to do so.
Also unique to the avocado is its high content of dietary fiber. In just ⅓ of a medium sized avocado (about 50 grams), you'll find 3 grams of fiber, which makes up 11% of your Daily Value.
Dietary fiber reduces the risk of cardiovascular disease, obesity, and type 2 diabetes. This is because dietary fiber also aids in cholesterol levels, digestion, blood sugar control, and appetite suppression.
And lastly, avocado is a great source for key nutrients like potassium, vitamin E, K, B5, folate, magnesium, and copper. All are important nutrients to overall health, but have been found lacking in the standard America diet.
Blenders vs Food Processors for Guacamole Salsa
This guacamole-salsa requires a bit of blending to get the right consistency. However, maybe you wonder about whether a blender or food processor will work better for this recipe, or any other recipe you might make in the future.
Contrary to popular opinion, there is a difference in the use of blenders and food processors. And it comes down to their inherent design.
Blenders, with the barbed blade positioned at the base of the bowl, create a vortex. This is best for pureeing or crushing hard ingredients like ice. Use a blender for recipes that you intend to drink, drizzle, or dip because it will produce a very fine and homogenized consistency.
Blenders will also always require extra liquid to help with the bending process.
A food processor has a flat blade positioned at the bottom, and sometimes middle of the bowl. This is used to chop and mix. It's generally a good idea to use a food processor when you intend to use a fork or spoon to eat the final product.
Additionally, a food processor requires less added liquid, but a bit of manual help in scraping down the sides of the bowl.
A good rule of thumb in deciding to use a blender or food processor for a recipe is based on the texture of the dish you want to create. If you want a chunky and not overly homogenized product, use a food processor. If you want a luxuriously smooth and uniform texture and color, a blender is the way to go.
In this guacamole-salsa, you can use a blender to produce a silky sauce that's good for dressing or drizzling. Or you can use a food processor to create a chunkier, scoopable topping or dip. Or, why not try both variations?
How to use guacamole salsa
Throughout this article, I've alluded to a few uses for this recipe. Make your guacamole-salsa to the preferred consistency to use as:
A dip for chips or veggies
A dressing for salad
A marinade for grilled meats or veggies
A topping for fajitas, tacos, taco bowls, or these quesadillas
A drizzling over an unlimited amount of dishes
But really, there is no wrong use for some really amazing guacamole-salsa. Definitely give it a try if it's a new dish to you.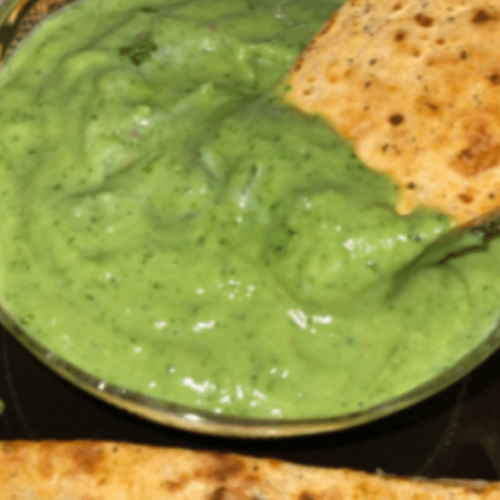 Guacamole Salsa
Why slave over making both guacamole and salsa, when you can just combine the two. With the same general ingredients, you'll be kicking yourself that you never tried this sooner!
Ingredients
1

small hass avocado

without the skin

1

lime

juice

½

cup

chopped tomatoes

¼

cup

chopped jalapeno pepper

¼

cup

chopped red onion

1

small chopped garlic clove

¼

cup

cilantro

Salt and pepper to taste
Instructions
Place all the ingredients in a blender and blend until you get the guacamole consistency (1-2 minutes).

Add a little bit of water if you want it to be more liquid.

You can serve it with chips or quesadilla.

Enjoy!
Nutrition
Calories:
98
kcal
Carbohydrates:
9
g
Protein:
2
g
Fat:
7
g
Saturated Fat:
1
g
Polyunsaturated Fat:
1
g
Monounsaturated Fat:
5
g
Sodium:
48
mg
Potassium:
354
mg
Fiber:
5
g
Sugar:
2
g
Vitamin A:
245
IU
Vitamin C:
21
mg
Calcium:
26
mg
Iron:
1
mg