If you are looking for a quick and easy weekday lunch that can be made quickly, or even be made ahead, you are in the right place. This recipe for a chicken avocado quesadilla is simple yet delicious.
Full of cheese, chicken, and avocado, these quesadillas are packed with flavor, calories, protein, and healthy fats. It is a great meal for anyone looking to gain weight, avoid weight loss, or fuel for training.
How to Make a Quesadilla
Quesadillas are so simple to make. The only ingredients you really need to make a basic quesadilla are tortillas and cheese.
This chicken avocado quesadilla recipe uses a Low Carb wrap as its tortilla, but you can really use any of your favorite type of tortillas or wraps. Flour tortillas are a great option because they are higher in calories and they get extra crispy when cooked.
All you have to do is spread a layer of cheese and any other fillings inside your wrap, fold it over, and place it in a skillet. For a crispy, tasty outside, I recommend spreading a layer of butter on the outside of the tortilla before placing in the pan.
These chicken avocado quesadillas can also be made in large batches, sandwiched between two sheet trays and placed in the oven.
Type of Cheese for Chicken Avocado Quesadilla
The best cheeses to use in quesadillas are low-moisture cheeses that melt well. You can buy pre-shredded cheese or shred it yourself.
For instance, some good options for cheese include:
Mexican-style shredded cheese
Mozzarella
Monterey Jack
Colby jack
Cheddar
Pepper Jack
Cotija
Oaxaca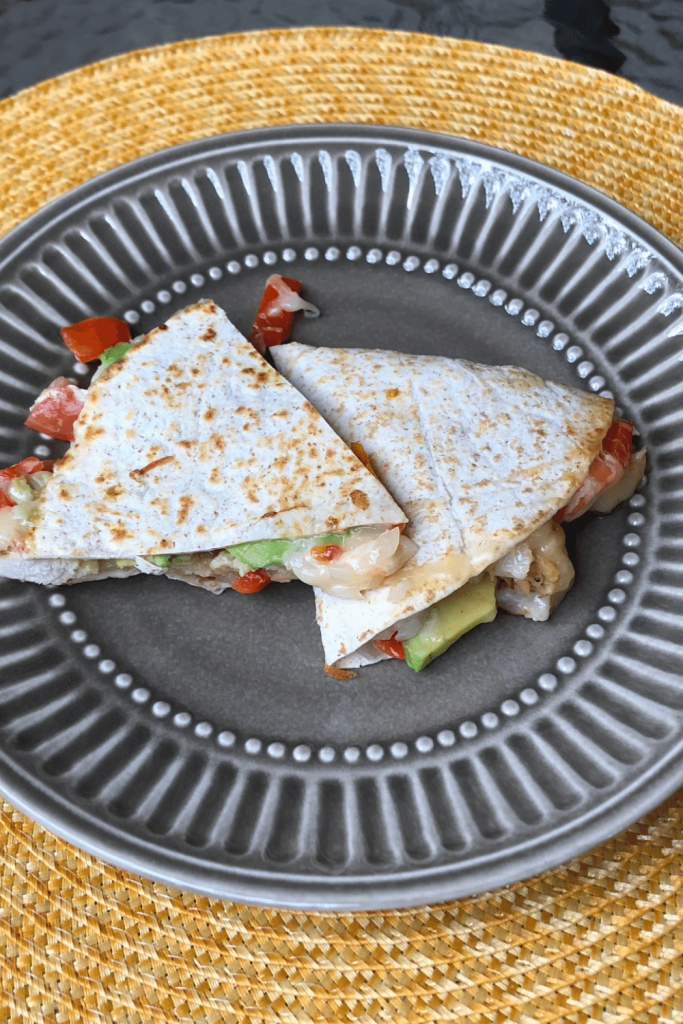 Type of Chicken
This recipe has a boost of added protein by topping the quesadillas with pre-cooked chicken. This can be any type of chicken that you like.
You can grill it yourself ahead of. You could buy pre-grilled chicken from the store. Or you could buy an entire rotisserie chicken (my personal favorite method) and use the rest in other meals. For instance you could make soup, chicken salad, or any other recipe that uses chicken.
Make Ahead Meal
One great aspect of this meal is that you can make a batch of them ahead of time and store them in the freezer. Then when you are short on time, you can have a tasty meal in no time.
To make these ahead, first construct your quesadillas like you normally would. then place them on a lined baking tray. Next, freeze the quesadillas on the tray for one hour. Finally, individually wrap each quesadilla in a freezer bag.
When you are ready to eat one, you can place it in the microwave, toast it in the oven, or heat on a skillet. This easy meal would taste great paired with our Delicious Cherry Parfait.
Other Fillings and Toppings to Modify Chicken Avocado Quesadilla
Quesadillas are an easy food item because they are a highly customizable food. This chicken avocado quesadilla is topped with chicken and avocado. You can add any other foods you like to the inside or the outside of your quesadillas. 
Filling options:
Black or pinto beans
Grilled onions
Bell Peppers
Corn
Beef or Pork
Topping Options:
Guacamole
Salsa
Sour Cream
Queso
These avocado quesadillas are great for any meal and are sure to satisfy! If you like it, don't forget to look at our other high calorie recipes and our High Calorie Recipe e-BOOK.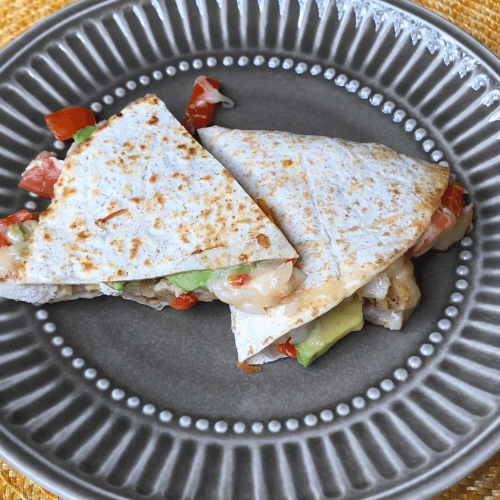 Chicken Avocado Quesadilla
If you are looking for a quick and easy weekday lunch that can even be made ahead, you are in the right place. These chicken avocado quesadillas are simple yet delicious.
Ingredients
1

Low Carb Wrap

¼

cup

Chicken

cooked, chopped or sliced

¼

cup

Cheese

your preference

½

Avocado

sliced

2

tbsp

Onion

diced

2

tbsp

Bell Pepper

diced

2

tbsp

Tomato

diced
Instructions
Heat a large skillet over medium heat.

Toast the wrap on one side, flip and top with chicken, cheese, veggies, and avocado.

Fold wrap in half and heat until cheese is melted, serve hot.
Nutrition
Calories:
444
kcal
Carbohydrates:
32
g
Protein:
24
g
Fat:
32
g
Saturated Fat:
10
g
Polyunsaturated Fat:
4
g
Monounsaturated Fat:
13
g
Trans Fat:
1
g
Cholesterol:
59
mg
Sodium:
515
mg
Potassium:
729
mg
Fiber:
23
g
Sugar:
3
g
Vitamin A:
1278
IU
Vitamin C:
40
mg
Calcium:
296
mg
Iron:
2
mg