Summer is here and it's the perfect time to make this high calorie tropical coconut milk smoothie for a refreshing breakfast, or a snack during the day. This smoothie is full of fruity goodness as well as essential vitamins to keep you healthy and satisfied.
High Calorie Smoothie
Around here, we are all about high calorie recipes that help to curb unwanted weight loss. But we are also about using foods that pack in a lot of nutritional benefit when we do. This tropical coconut milk smoothie is right on target!
This smoothie contains about 800 calories, which is a great way to get enough calories to help you gain weight. This is especially good since sipping on a delicious smoothie is so incredibly easy!
But this smoothie also uses a great assortment of whole foods like rolled oats, whole milk, bananas, strawberries, pineapple, mangoes, and chia (or flax) seeds. From all of these ingredients, we get exceptional dietary fiber, loads of vitamins and minerals, and powerful antioxidants. For more information on high calorie smoothies, check out this article at The Geriatric Dietitian.
What is coconut milk?
The star of this smoothie is–you guessed it–coconut milk! But maybe you're wondering about coconut milk. Do they actually milk coconuts?
Or maybe, you're wondering whether coconuts are a fruit, nut, or seed?
Coconuts are technically all three! They are botanically considered a one-seeded drupe. And a drupe refers to a fruit with a hard surface that contains a seed. It just so happens that the entire coconut is technically the seed.
Seeds are characteristically the reproductive unit of the plant that typically house the "baby" plant and everything it needs to begin growth inside the seed. In the case of the coconut, the outer shell has three pores from which the seed can germinate and a large amount of nutrients for the shoot on the inside.
And by the technical definition of a nut, a one-seeded fruit, a coconut may be considered a nut, too! Though, the entire "nut" is not exactly as edible as we consider an almond or walnut to be.
Regardless of whether you consider a coconut a fruit, nut, or seed, it's the internal goods that we care most about. A young coconut will have a large quantity of clear liquid, the liquid endosperm of the seed, on the inside.
This clear liquid is what we refer to as coconut water, and it can be drunk straight from the coconut, like you may see at some tropical resorts. It is slightly sweet and is very high in electrolytes like potassium.
As the coconut begins to mature, that clear water diminishes as the coconut uses the nutrients to create a solid endosperm on the inside of the shell. This is what we call the "meat," it is often extracted for its abundant oil or dried and used as flakes.
How Do They Milk a Coconut for Coconut Milk Smoothie
It's kind of the same way as they make any other nut milk product. This is to say, coconut milk is a processed byproduct of coconut.
In order to make coconut milk, the matured coconut's inner "meat" is finely grated and then simmered in hot water. Any large pieces are strained out and the "milk" remains. The amount of water used determines the final consistency of the milk.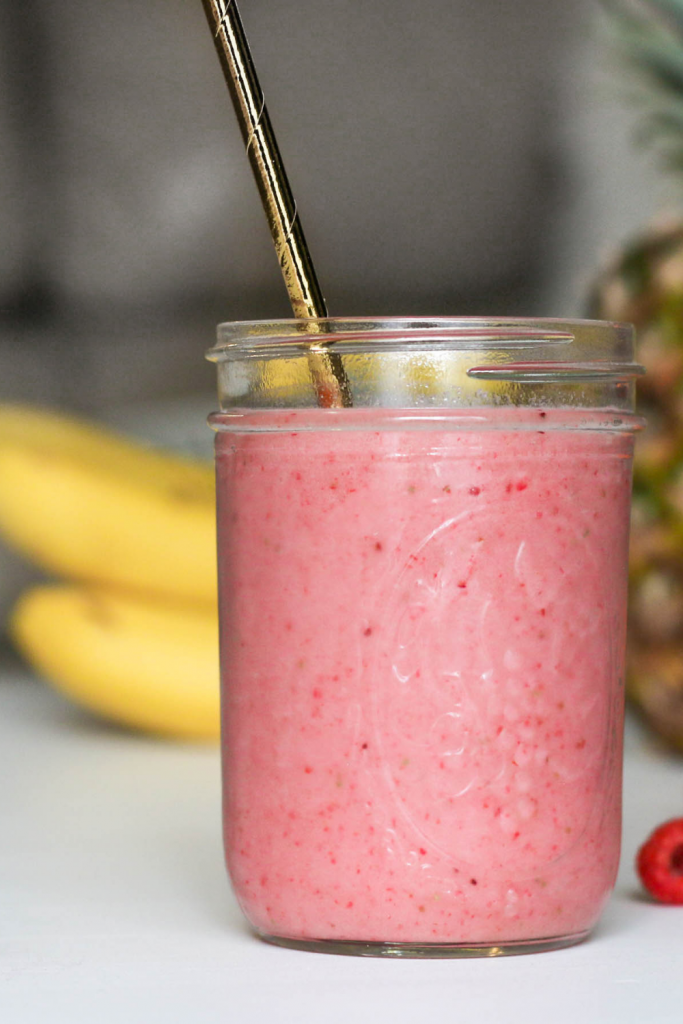 You can find thinner coconut milk in the dairy aisle of your super market, or thicker, canned coconut milk in the Asian products aisle. Both water and fat content determine the difference in these coconut milks.
Canned coconut milk generally has less water, a few thickening agents, and a higher natural fat content, which makes it a good addition for sauces and smoothies!
Canned coconut naturally separates at room temperature. But this does not mean it has gone bad! Use the thickened portion and the liquid portion for any recipe. Shake the can well before opening it to ensure that the milk is fully mixed.
Variations and Food Allergy Alternatives for Tropical Coconut Milk Smoothie
Coconut milk is delicious, but it's not everyone's favorite. If you need to know how to replace it for either taste preference or allergies, then keep on reading.
Although coconut can be considered a nut, it is not botanically a tree nut. This means that those with tree nut allergies are typically okay to eat coconut. This being said, specific coconut allergies may still be prevalent due to the rarity of this tropical food in many cultures.
Substitute coconut milk with heavy cream or half and half to obtain a thicker and higher calorie smoothie. If omitted, double up on the whole milk (or milk alternative, if avoiding dairy), so that the smoothie has enough liquid to blend.
Dry oats are a great source of fiber and nutrients in this smoothie, and therefore, highly recommended. But the texture can be somewhat gritty. To avoid this, you can try soaking the oats for a few hours (or overnight) to aid in a smoother texture. Or omit completely.
If the recommended tropical fruits aren't to your taste or health preferences, feel free to use whatever fruits you do enjoy. The best part about smoothies is that they are extremely versatile and work with whatever you have on hand, or prefer!
And finally, the recipe calls for some extra brown sugar. This is for a boost of sweetness for those that prefer a truly sweet smoothie. First, try the smoothie before adding any additional sweeteners.
For more delicious smoothie recipes, check out this recipe.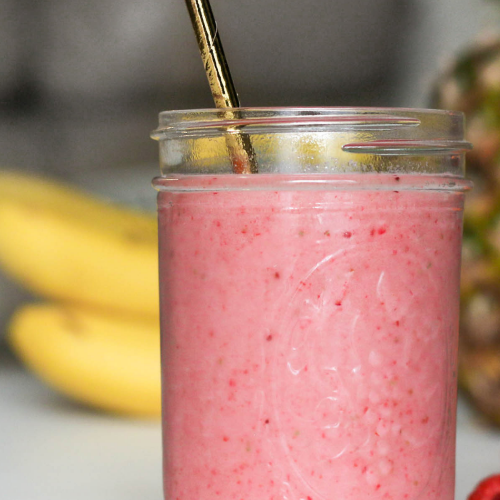 Tropical Coconut Milk Smoothie
This refreshing smoothie is packed with calories and full of nutrients to power your weight gain.
Ingredients
13.5

oz

coconut milk

1/2

cup

whole milk

1/2

cup

rolled oats

1

banana

1/2

cup

strawberries

1/2

cup

pineapple

1/2

cup

mango

cinnamon

2

tablespoons

flax seeds

3

tablespoons

brown sugar
Instructions
Pour a 13.5 fl oz can of coconut milk and 1/2 cup of whole milk into the blender. Add ½ cup of dry old fashioned oats

Add 1 banana

Add ½ cup each of strawberries, pineapples and mango.

Sprinkle a dash of cinnamon

Add 2 tablespoons of a flax seeds

Lastly, add 3 tablespoons of brown sugar for sweetness

Close the blender & blend on high speed for 3-5 minutes

Enjoy!
Nutrition
Calories:
802
kcal
Carbohydrates:
143
g
Protein:
16
g
Fat:
23
g
Saturated Fat:
10
g
Polyunsaturated Fat:
7
g
Monounsaturated Fat:
4
g
Cholesterol:
12
mg
Sodium:
75
mg
Potassium:
1280
mg
Fiber:
18
g
Sugar:
90
g
Vitamin A:
1222
IU
Vitamin C:
122
mg
Calcium:
436
mg
Iron:
4
mg