These 500 calorie breakfast cheesy grits are a creamy and delicious way to start your day! This recipe is not only bursting with flavor but also high in calories and nutritious ingredients.
Because these grits are full of delicious cheese and cream and butter, they are calorically dense but still so tasty. It is a great 500 calorie breakfast for anyone who loves Southern comfort food or a hearty savory breakfast.
You are going to love this recipe and if you want more just like it be sure to check out our High Calorie RECIPES e-book.
What are Grits?
Grits are made from grinding dried corn into smaller pieces using a stone mill. They are a staple in southern cooking and are often paired with cheese, bacon, and/or shrimp. 
Grits can be a breakfast food or a side dish to any meal.
Even if you have never made grits before, they are quick and easy to make. They cook very similarly to oatmeal, in a pot of water, broth, or milk on the stove. 
Once the grits are finished cooking, you can add any mix-ins and toppings you like.
Nutritional Benefits of Grits
Because grits are made from ground corn, they are a grain. They contain many essential nutrients including iron, folate, and thiamine.
This 500 calorie breakfast will help promote healthy weight gain, prevent unintentional weight loss, or help fuel any sort of athletic training.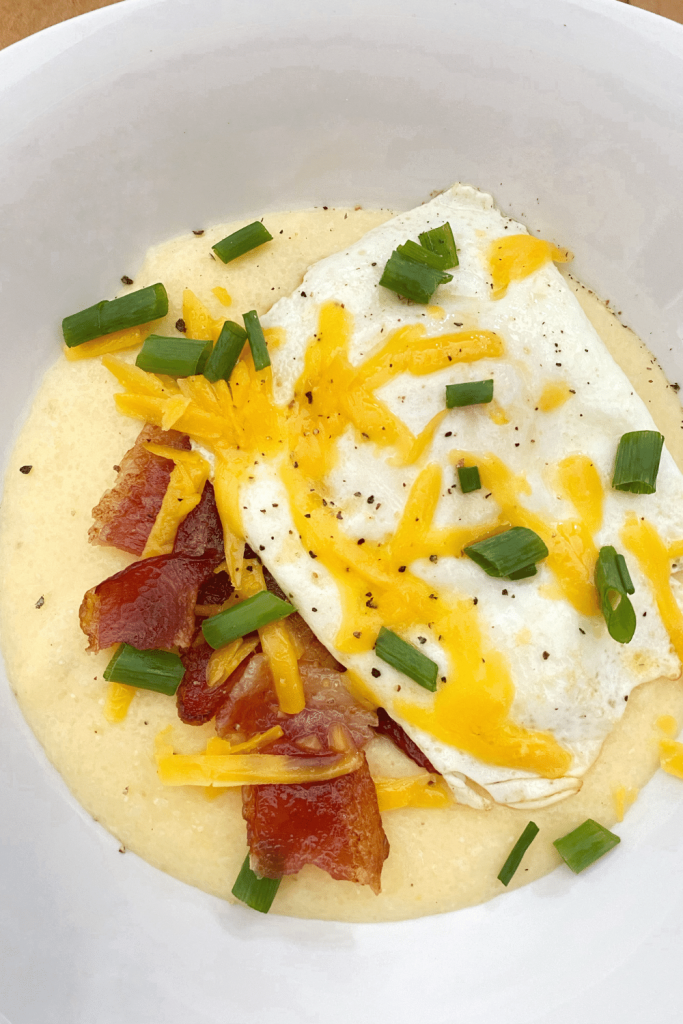 How to Make Grits
There are several types of grits: stone-ground, quick cooking, and instant. This recipe calls for quick cooking grits, but feel free to use whichever variation you prefer.
To cook the grits all you need is a saucepan and milk. Bring the milk to a simmer on the stove and then cook the grits for about 7 minutes until all of the liquid has been absorbed. The milk gives the grits a creamy texture and a richer flavor than just using water. You can substitute chicken broth, but it will reduce the overall calories of the recipe.
Type of Cheese
This recipe uses cheddar cheese to make the grits cheesy and delicious, but you can use whatever cheese you enjoy the most. You can use either pre-shredded cheese or you can shred it yourself. I find that the grits often turn out creamier if you buy a block of cheese and shred it yourself.
Other options for cheese include parmesan, gouda, or gruyere. It is best to use low moisture cheeses because they melt best into the grits.
Toppings
There are so many combinations of flavors, toppings, and mix-ins that you can add to your grits to bump up the flavor, calories, and nutritional density.
If you want to make Spanish-inspired grits, you can add Manchego and Cotija cheese and top them with grilled shrimp or chorizo. If you want barbecue flavored grits, you can add in pulled pork and barbecue sauce.
Here are some other toppings that would taste great with the cheesy grits.
Proteins:
Chicken
Sausage
Shrimp
Ham
Eggs
Black Beans
Veggies:
Mushrooms
Onions
Bell Peppers
Tomatoes
Salsa
Green Onions
500 Calorie Cheesy Breakfast Grits
The detailed recipe for these delicious grits is listed below! I hope you enjoy this easy and delicious 500 calorie breakfast.
If you enjoy this recipe, be sure to check out our High Calorie Egg Breakfast and even more in our High Calorie Recipe eBook.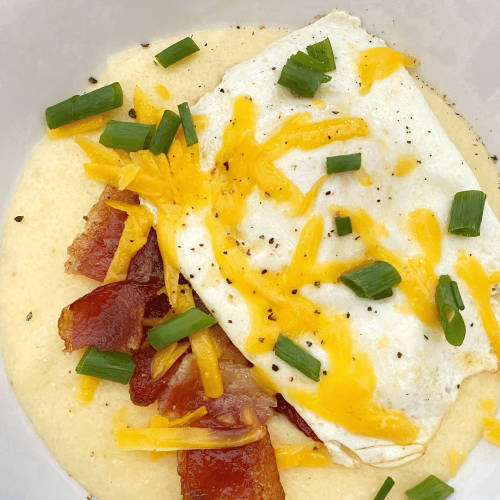 500 Calorie Breakfast Cheesy Grits
These cheesy grits are a creamy and delicious way to start your day! This recipe is flavorful and full of nutritious ingredients.
Ingredients
½

cup

whole milk

½

cup

water

¼

cup

quick cooking grits

Pinch

of salt

½

Tbs.

butter

¼

cup

shredded cheddar cheese

2

strips of bacon

1

egg
Instructions
Preheat medium skillet on medium heat. Place bacon in skillet and cook to desired crispness. Set aside.

Keep the bacon grease in the skillet and return to stove on medium heat.

Crack the egg into the pan and reduce heat to low. Cook for 2 minutes or until whites are set.

Carefully flip the egg and cook second side to desired doneness. Set aside.

In a small saucepan, bring the milk and water to a simmer.

Add the grits and salt and reduce heat to medium. Cook for 7 minutes stirring occasionally.

Once the grits are cooked, remove pan from heat and stir in butter and shredded cheese.

Place grits into a bowl and top with bacon and fried egg.
Notes
*Optional toppings: extra shredded cheddar cheese, green onions, black pepper, hot sauce
Nutrition
Calories:
611
kcal
Carbohydrates:
36
g
Protein:
25
g
Fat:
41
g
Saturated Fat:
19
g
Polyunsaturated Fat:
5
g
Monounsaturated Fat:
14
g
Trans Fat:
1
g
Cholesterol:
249
mg
Sodium:
637
mg
Potassium:
387
mg
Fiber:
2
g
Sugar:
7
g
Vitamin A:
904
IU
Calcium:
371
mg
Iron:
2
mg