Are you looking for a quick and easy microwavable high calorie egg breakfast? Well, you've found it! Our high calorie egg breakfast recipe is an easy way to have breakfast on the table in just minutes!
Benefits of a High Calorie Egg Breakfast
Making this recipe has several benefits.
You can make a meal for one person
Minimal cleaning required
High in calories and protein
Several variations available
Sometimes you just want to make a quick meal for yourself or someone you care for. You don't want to use a ton of dishes and take a lot of time to make a meal. Instead of using a mixing bowl and pan, this recipe just calls for a coffee mug.

And if you use your non-stick cooking spray, when you are done eating you can just toss the mug in the dishwasher. It doesn't get much easier.

This recipe has over 450 calories and 29 grams of protein per serving. And it's not a large volume of food, so it's pretty easy to finish. You can switch up the ingredients in this recipe for added variety (for info below).
Microwave Time
You may be surprised by how little time it takes to microwave this high calorie egg breakfast. It's only 45 seconds, a quick stir, and a final 30 seconds to complete the cooking.

However, you may need to cook this dish for another 15-30 seconds or longer. A lot of this variation has to do with how strong your microwave is. I use a 1200-watt microwave. Most microwaves are between 600 and 1200 watts. Because mine is on the higher end, foods cook faster.

Once you make this recipe for the first time, note how long you had to cook it based on your microwave. Write down this information for making this dish in the future.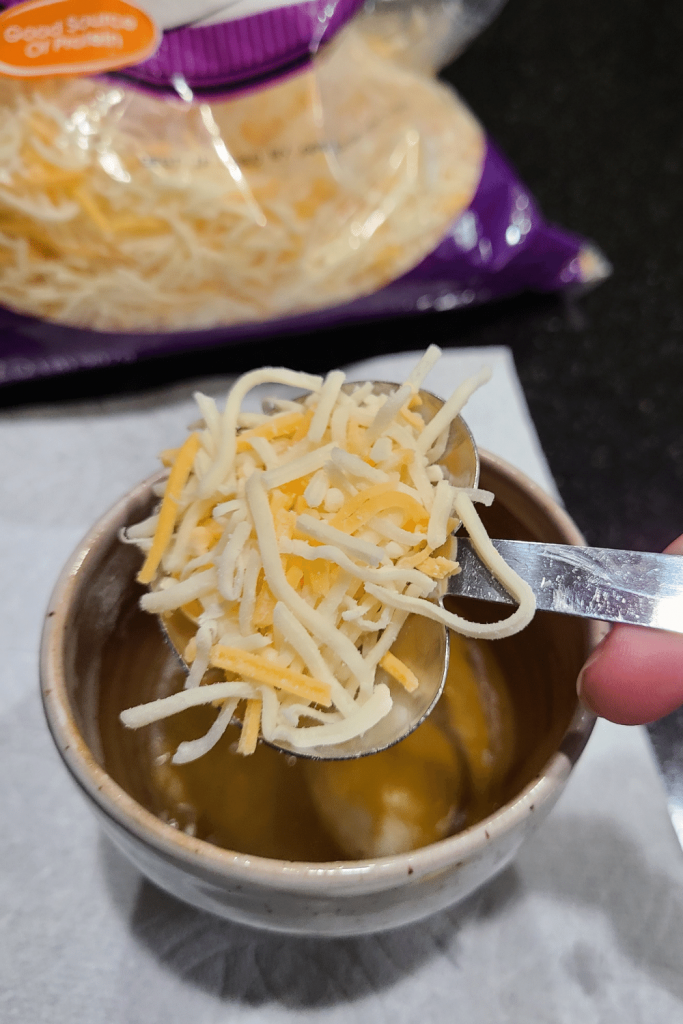 Variations on this Recipe
You can switch up this recipe in a variety of ways by changing the flavor of cheese, the type of breakfast meat uses, and/or the toppings you add. Below are some cheese, breakfast meat, and topping variations you may want to try.
Shredded cheeses:
Cheddar
Colby Jack
Swiss
Provolone
Mozzarella
Cheddar Jack
Pepper Jack
Etc.
Breakfast meats:
Toppings:
Extra cheese
Extra meat
Hollandaise sauce
Sour cream & chives
Etc.
Using pre-cooking breakfast meats will save you time (less time cooking and cleaning).
Foods to Pair with Your Eggs
While this recipe provides 450 calories, it won't necessarily fill you up. So you can add even more high calorie foods to complete your meal. For example, try pairing with high protein pancakes, a banana, and a glass of whole milk.

Below, you can pick a food from each category to add more calories and balance your breakfast (if desired).
Starch Foods:
High Protein Pancakes
Stuffed French Toast
Toast with butter
English muffin with butter
High Calorie Fruits:
Banana
Fruit Juice
Grapes
Mango
Dried fruit
High Calorie Drinks:
Nutritional Benefits of Eggs
Eggs are the focus of this recipe. Eggs are jam packed with good nutrition. For the sake of stopping unintended weight loss and promoting weight gain, eggs provide a healthy source of calories and protein. Protein along with resistance exercise can help to maintain muscle mass and prevent muscle loss.

A jumbo egg contains 90 calories. Since most people opt for eating 2 eggs at a time, providing 180 calories total. A jumbo egg also provides 8 grams of protein.

Other beneficial nutrients found in an egg include choline, biotin, B vitamins, and selenium.
Other Ways to Prepare Eggs
There are many ways to incorporate eggs into your daily diet. In addition to this microwavable high calorie egg breakfast, you can prepare eggs on the stove top.

Other Ways to Prepare Eggs:
Scrambled
Over easy
Fried
Poached
Omelet
When cooking on the stove top use butter in the pan for added calories.

You can also hard boil eggs and eat them as a snack in between meals. You can cut up the hard-boiled eggs and make a tasty egg salad or egg salad sandwich. Or you can even make deviled eggs.

When cooking with eggs, be sure to use both the egg yolk and egg white unless you've been told to limit cholesterol by your doctor. The egg yolk provides the most calories. The egg whites are high in protein, but are missing a lot of the key nutrients found in eggs.
Microwavable High Calorie Egg Breakfast
OK, let's dive into this recipe. You just need a good coffee mug, a reliable microwave, and the ingredients listed below.

Remember to buy pre-cooked bacon to save on time. If you don't have precooked bacon, that's OK. Just cook up a batch and store extras in a sealed plastic container in the fridge.

Let's get cooking!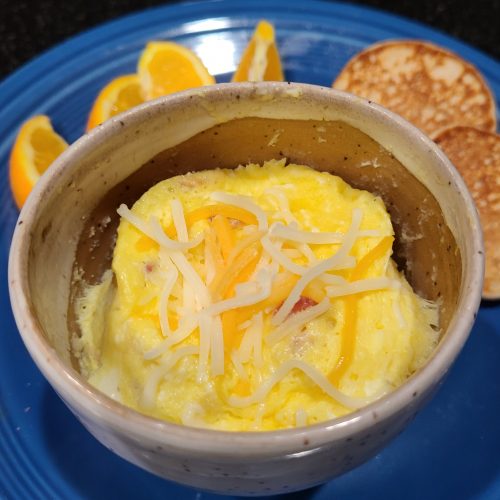 Microwavable High Calorie Egg Breakfast
Quick and easy microwavable high calorie egg breakfast.
Ingredients
2

jumbo

eggs

4

Tbsp

shredded cheese

2

slices

bacon strips

precooked, diced

non-stick cooking oil spray
Instructions
Coat the inside of a coffee mug with non-stick cooking spray.

Add 4 Tbsp shredded cheese and 2 slices precooked bacon (diced).

Stir ingredients in mug with fork until well mixed.

Microwave for 45 seconds.

Stir the ingredients in mug with fork again.

Microwave for 30-45 seconds until egg mixture is fully cooked.

Garnish with extra cheese on top, if desired.
Nutrition
Calories:
466
kcal
Carbohydrates:
2
g
Protein:
29
g
Fat:
37
g
Saturated Fat:
14
g
Cholesterol:
525
mg
Sodium:
683
mg
Potassium:
261
mg
Sugar:
1
g
Vitamin A:
910
IU
Calcium:
242
mg
Iron:
2
mg