Wanting to add another tasty item to your morning breakfast routine? Or looking for a delicious snack or sweet treat? A high protein muffin ticks each one of these categories. And why not the classic banana nut muffin to boot?

As far as muffins go, this high protein muffin has it all. Sweetness from the banana. Richness from the chocolate chips. Texture from the walnuts. And nutrition from the rest of the wholesome ingredients. And Chocolate Chip Banana Nut muffins are so tasty!

But maybe you're wondering what gives this muffin its higher protein content and why this might be important for you?
Why a High Protein Muffin?
Protein is found in a wide variety of foods from grains to legumes, soy, nuts and seeds, eggs, meat, and dairy. It's important to note that even if a food didn't come from an animal, it is still likely to contain protein. You can rest assured that a diet incorporating a variety of food types will be helpful in ensuring you consume an adequate amount of protein per day.

On top of this, eating a variety of different types of food helps make sure you are consuming a medley of amino acids, the building blocks of proteins and enzymes within the body. And we need plenty of protein as we age to make sure our muscles and immunity remain strong.

This high protein muffin gets its 11 grams of protein per muffin from the protein powder, whole milk, and eggs, but also from the whole wheat flour, rolled oats, and walnuts. So, eating snacks like this banana nut high protein muffin is an excellent way to up the protein content (and amino acid profile) of your daily diet.
Wholesome Ingredients
In taking a closer look at all the ingredients of this high protein muffin, you may notice a theme: "whole" ingredients. Whole foods is not just a name brand organic grocer, but a class of foods that are in their purest form.

An easy way to identify whole foods is to ask yourself a few questions. Can you imagine the food growing on a vine, in the ground, or on a farm? Is the food in a natural package like a skin, or in man-made plastic or cardboard? Or even, have humans been know to consume this food for a long time?

If you can answer these questions with a simple "yes," then it is likely a whole form of a food.

The whole foods in this banana nut muffin are the eggs, whole milk, bananas, whole wheat flour, rolled oats, and walnuts. Sweeteners like honey and maple syrup are also considered whole foods if they are labeled as "raw" or "pure". Meaning they are actual honey and maple syrup versus high fructose corn syrup with flavoring (read the ingredient list on your foods).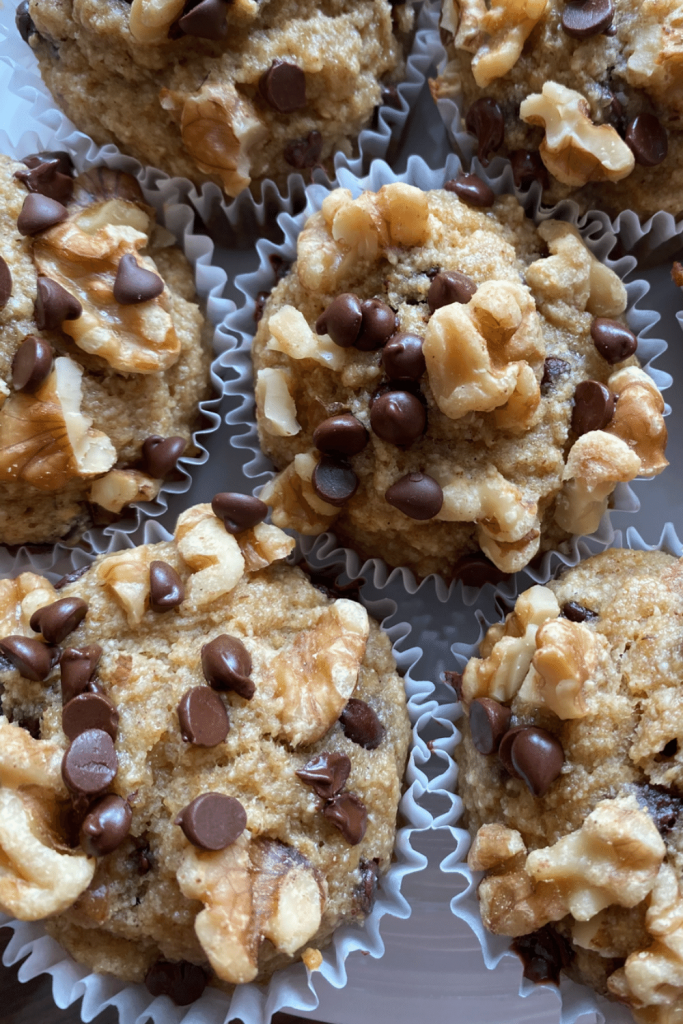 Why Do These Ingredients Matter?
Whole foods are important to incorporate in your daily diet because they are jam packed with vitamins, minerals, and other nutrients. These are natural sources of nutrients because they have had minimal processing.

Processing describes the work that has been done to turn a food from its purest, original form into something else. Milling, juicing, cooking, and freeze-drying are all examples of food processing. For example, think about the process of turning a tomato into tomato sauce.

However, not all food processing is bad. In the example of the tomato sauce, most of the tomato was used, from the skin to even the tiny seeds. We know that we are still consuming the majority of the tomato, and therefore, most of the nutrients it has to offer.

In the case of white flour, the flour grain has been separated from its outer bran layer and milled. The bran layer is what contains the majority of the grain's protein, complex carbohydrates, vitamins, minerals, and other nutrients.

By using this white flour, we may get a sweeter, fluffier bread, but we are missing some of the beneficial nutrients that the whole wheat flour has to offer.

And the body is smart. It knows when it's missing those other key nutrients. This often why we feel hungry soon after eating lower nutrient quality foods and have cravings. Processed foods certainly have their place, but whole foods are important for a balance diet.
High Protein Muffin Ingredient Substitutions
Now, if you have specific preferences, food allergies, or any other need to swap out some ingredients, then I have great news for you! These high protein muffins are so easy to make your own.
Don't like the taste of honey? No problem. Try pure maple syrup instead. Or regular table sugar if that's all you have. A 1/2 cup of sugar will do, just be sure to add a little bit more liquid to the batter if it seems too dry.
Prefer fat free milk? Your preferred type of milk will work just fine here. But remember, whole milk packs additional nutrition with its beneficial calories, and without having any filler ingredients either. Don't fall for the old diet phobia of whole milk!
Don't have any walnuts? Feel free to use whatever type of nut you have on hand. And if you have a nut allergy, try seeds instead.
Don't want to add the chocolate chips to your banana nut muffin? That's fine. Leave them out. These high protein muffins will have plenty of yum to them just the way they are.
How to Best Enjoy These High Protein Muffins
These high protein muffins are a great way to consume more protein, calories, and beneficial nutrients in your day. Some recommendations for consumption include:
Alongside a balanced breakfast (i.e. eggs, yogurt, fruit, orange juice, and tea or coffee.)
As a late morning snack with a glass of whole milk.
Any time you'd like a sweet treat.
If you find yourself unable to eat all 11 muffins within 5 days, I recommend freezing the remaining muffins in a container. This will keep them for up to 2 months. Just remove and let them thaw overnight, or pop them in the microwave for about 30 seconds when you are ready to enjoy them.
And, if you like these Chocolate Chip Banana Nut Muffins, be sure to check out our Peach Cobbler Muffins! Enjoy.

High Protein Muffins [Chocolate Chip Banana Nut]
Ingredients
1/3

cup

canola oil

1/2

cup

honey

2

large

eggs

1/2

cup

whole milk

3

medium

bananas

ripe

1

tsp

vanilla extract

1 3/4

cups

whole wheat flour

2

scoops

protein powder

vanilla

1

tsp

baking soda

1/2

tsp

salt

1

tsp

cinnamon

1/3

cup

rolled oats

1/2

cup

walnuts

chopped

3/4

cup

semi-sweet chocolate chips
Instructions
Preheat oven to 350 degrees F.

Grease a muffin pan or line with baking cups.

In a large bowl, combine flour, protein powder, baking soda, salt, cinnamon, and oats.

In a separate bowl, mash bananas with a fork. Add oil, honey, eggs, and milk. Stir well.

Combine the dry ingredients with the wet. Then mix in chocolate chips and walnuts.

Fill muffin cups almost to the top, this recipe should make approximately 11 muffins.

Bake for about 20-25minutes or until a toothpick comes out clean.

Allow muffins to cool and enjoy!
Nutrition
Serving:
1
muffin
Calories:
358
kcal
Carbohydrates:
44
g
Protein:
11
g
Fat:
17
g
Saturated Fat:
4
g
Cholesterol:
45
mg
Sodium:
234
mg
Potassium:
338
mg
Fiber:
5
g
Sugar:
22
g
Vitamin A:
108
IU
Vitamin C:
3
mg
Calcium:
60
mg
Iron:
2
mg