A high calorie muffin is a delicious way to add more calories to your diet to stop unintended weight loss and promote weight gain. A batch of muffins can be prepared then enjoyed throughout the week. Muffins aren't just for breakfast. They can be enjoyed as a snack or dessert throughout the day.

There are many high calorie muffin options. This particular recipe is a high calorie peach cobbler muffin. It has a delicious cobbler topping which adds flavor and texture. And it is sure tasty!
How to Make High Calorie Muffins
When making high calorie muffins we are using high calorie ingredients like whole milk and butter. These muffins are made from a simple muffin base. The flavors and toppings are added to make a unique muffin experience.

This recipe uses Bisquick baking mix for convenience. If you do not have Bisquick use 1 ½ cups flour, 1 ¾ teaspoons baking powder, ½ teaspoon salt, and 2 ½ tablespoons butter.

The recipe at the bottom of the article has all the details you need to know!
Storage of Muffins
Homemade muffins are always best when eaten right away. The longer they are out, the more likely they are to dry out. To preserve them longer, be sure to store the muffins in a zip lock bag or air tight container.

Store the muffins at room temperature. Either in the pantry or on the counter. Preferably somewhere than is not near moisture or temperature variations (ex. too close to the sink or on the stove). We do not recommend storing them in the fridge because it can impact the muffin texture.

Be sure to enjoy your muffins within 3 to 4 days.

If you make too many muffins or just don't feel like eating them all, you can always freeze them! We recommend wrapping them individually in plastic wrap. Then place in a freezer safe container (zip lock bag or air tight container). This minimizes risk of freezer burn. Use within 2-3 months.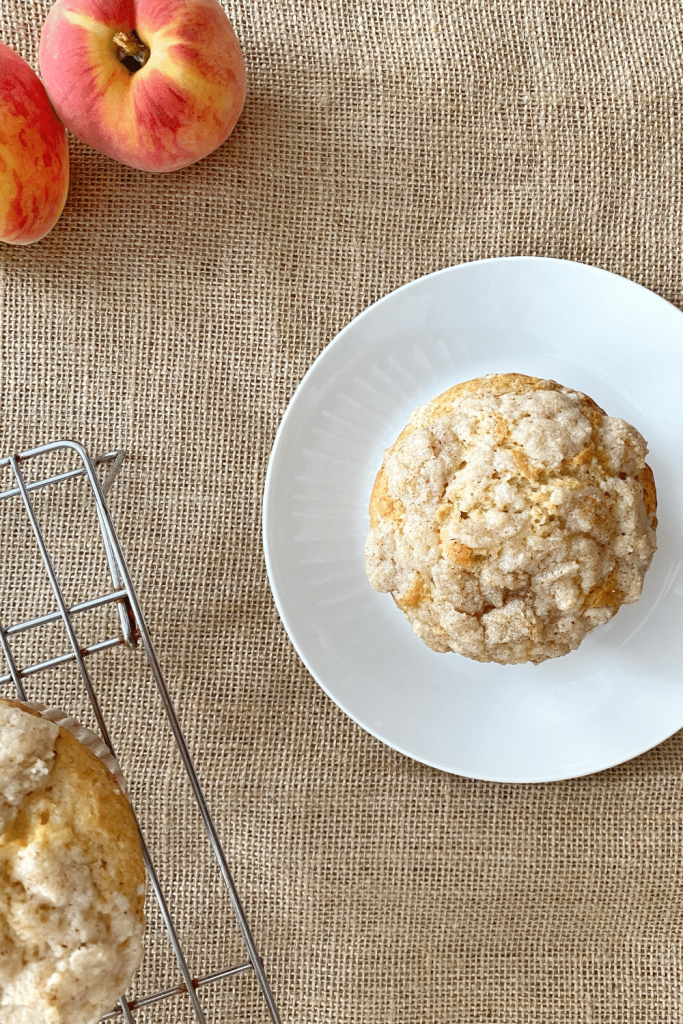 High Calorie Muffin Variations
If you are looking for high calorie muffin variations, you can use this recipe as a base. The two ingredients you would want to change are the cinnamon and fruit.

You can omit the cinnamon if that flavor doesn't seem like a good fit. The cinnamon does not contain calories so omitting it will not affect the calorie count. You can also add different spices as desired.

The fruit can easily be changed. You can use fresh fruit, dried fruit, or even frozen fruit. If using frozen fruit, it is a best practice to defrost the fruit first. If there are any ice crystals on the frozen fruit they will dissolve into water when cooking and affect the texture of the muffin.

High Calorie muffin flavor ideas:
Classic blueberry
Raspberry
Blackberry
Cherry
Strawberry
Apple spice
Pumpkin spice
Banana nut
Chocolate chip
Lemon poppy seed
Raspberry & White Chocolate Chip
Blackberry & Walnut
Triple berry (blackberry, raspberry, blueberry)
Black & White (Chocolate & White Chocolate Chip)
Depending on the flavors you go for, you may need to experiment with the recipe to get the best texture and flavor blends.
Muffin Topping Options
This recipe features a cobbler topping. By adding this topping, you can change any muffin recipe into a "cobbler" option. Think apple cobbler, blueberry cobbler, cherry cobbler, and more.

You can add a variety of other toppings to muffins as well. This can be separate from the cobbler topping or in addition to.

Muffin topping ideas:
Diced walnuts
Sliced almonds
Pumpkin seeds
Poppy seeds
Dried Fruit
Oats
Sugar coating
Cream cheese frosting
Chocolate drizzle
Chocolate chips
Your imagination is the limit for muffin topping ideas! This list just includes some ideas and inspiration to get you started.
High Calorie Muffin [Peach Cobbler] Recipe
Let's dive in! This recipe has two parts. Making the muffins. Then making the delicious cobbler topping. You can make 6 large muffins or 12 regular sized muffins with this recipe. A serving size is 2 regular muffins or 1 large muffin. Enjoy!

High Calorie Muffin [Peach Cobbler]
These Peach Cobbler muffins are delicious and high in calories to stop unintended weight loss and promote weight gain.
Ingredients
Muffins
1 3/4

cups

Bisquick baking mix

1/2

cup

granulated sugar

1/2

cup

whole milk

2

large

eggs

whole

2

medium

peaches

peeled and diced

1

tsp

vanilla extract

1 1/2

tsp

ground cinnamon
Cobbler Topping
1/4

cup

all-purpose flour

1/4

cup

granulated sugar

2

tbsp

salted butter

softened

1/2

tsp

ground cinnamon
Instructions
Using either a large 6 cup muffin pan or aregular 12 cup muffin pan, spray the pan with cooking spray or line withcupcake liners.

In a large mixing bowl, stir together the Bisquick, sugar and cinnamon.

In a medium mixing bowl, stir together the milk, eggs and vanilla.

Add the liquid mixture to the dry ingredients and stir together until just combined. Next, gently fold in the peaches.

Divide the batter into the muffin cups, filling about ⅔ full.

Next, prepare the cobbler topping. Start by adding the flour, sugar, cinnamon and butter to a bowl.

Using a fork, incorporate the butter into the dry ingredients until a crumbly texture is reached.

Top each muffin with the cobbler topping.

Place muffins in the oven and bake for 25-30 minutes, or until a toothpick comes out clean.

Let cool in the pan for a few minutes before removing.
Notes
This recipes makes 12 regular muffins or 6 large muffins. You can use a large muffin pan if desired.
Nutrition
Serving:
2
muffin
Calories:
359
kcal
Carbohydrates:
58
g
Protein:
7
g
Fat:
12
g
Saturated Fat:
5
g
Polyunsaturated Fat:
1
g
Monounsaturated Fat:
5
g
Trans Fat:
0.2
g
Cholesterol:
75
mg
Sodium:
515
mg
Potassium:
183
mg
Fiber:
2
g
Sugar:
34
g
Vitamin A:
406
IU
Vitamin C:
2
mg
Calcium:
108
mg
Iron:
2
mg