High calorie overnight oats are an easy breakfast option for promoting weight gain and stopping unintended weight loss. This delicious banana overnight oats recipe is bound to be a hit in your home.

Our banana cream overnight oats are a high calorie vegan recipe for those who limit or avoid animal-based products. Or for those looking for more plant-based options.
How to Make Overnight Oats
The best part about making overnight oats: it is so easy! This recipe provides some ideas and inspiration but you can always switch up the ingredients for added variety.

To make high calorie overnight oats you will be mixing oats, liquid, tasty flavors, and high calorie add-ins. This particular recipe is vegan, but can be modified for those who prefer consuming dairy products.

Once you mix your ingredients you simply cover the container and put the oats in the fridge overnight or for at least 4 hours.

In the morning you uncover your oats, give them a quick stir, and enjoy!
Can I Make Overnight Oats in the Morning?
OK, so what happens if you wake up ready for your overnight oats… but you realize you forgot to make them the night before?! This happens. I totally get it.

It does take around 4 hours for your oats to fully mix with the other ingredients and become soft.

If you forget to prepare your overnight oats, just make them first thing when you wake up. You can plan on having a late breakfast or a tasty mid-day snack.
Overnight Oat Containers
Most overnight oats are prepared in glass jars. Glass canning jars come with lids and are easy to seal. Plus, they are clear so you can see your tasty oats creation. But what if you don't have glass jars?

You can prepare your overnight oats in any container you have handy.
Tall drinking glass
Kid's plastic cup
Large coffee mug
Any type of bowl
Empty PB container
Clear measuring glass
You can really use any container. Just be sure to cover with saran wrap or any other type of cover.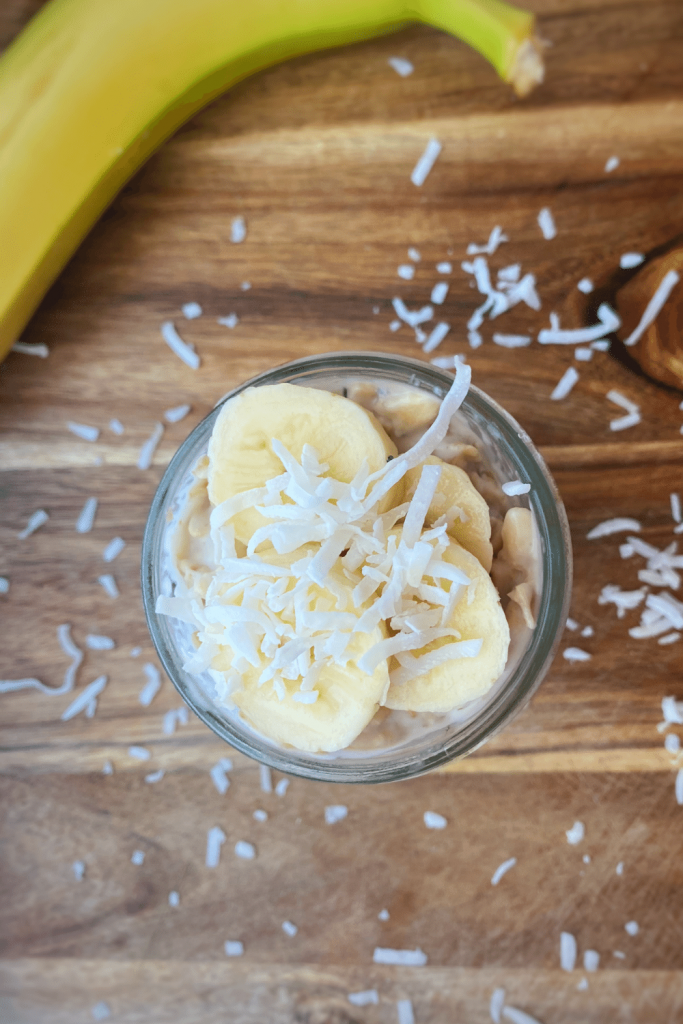 High Calorie Overnight Oats Ingredients
For these overnight oats you will be using a variety of high calorie vegan foods. They are both delicious and nutritious.

Here are some nutrition highlights with these ingredients:
Oats: Oats are high in soluble fiber and good source of vitamins and minerals
Coconut milk: Full fat coconut milk is high in calories & MCT fats
Maple Syrup: Natural sweetener high in calories
Bananas: Bananas are a good source of potassium and contain ~105 calories per medium banana
Overnight Oats Toppings
This recipe can be topped with a variety of optional toppings.
Here are some additional toppings you may want to add to your overnight oats:
Fresh bananas
Banana chips
Shredded coconut
Chia seeds
Coconut whipped cream
Maple Syrup
Dried fruit
Walnuts
Sliced almonds
Peanut butter
These are just a few ideas, but the sky is the limit for what you can add!
Banana Overnight Oats
Now let's get to the recipe! Note that the full-fat coconut milk is a big contributor to the calorie content in this recipe. Also be aware that calorie content can vary based on individual ingredients used. Be sure to read the nutrition facts label on foods used.

Best of luck with this delicious recipe and be sure to let us know what you think!

High Calorie Overnight Oats [Banana Cream]
Delicious vegan high calorie overnight oats recipes. This banana cream overnight oats recipe features banana and coconut flavors.
Ingredients
1

cup

rolled oats

1

cup

full-fat canned coconut milk

¼

cup

pure maple syrup

½

tsp.

vanilla extract

1

pinch

salt

1

med.

banana

sliced
Instructions
In a bowl or mason jar, stir together oats, coconut milk, maple syrup, vanilla and salt.

 Cover and refrigerate at least 4 hours, preferably overnight.

In the morning, stir the oats. This recipe can be enjoyed cold or if you prefer warm oatmeal, feel free to microwave or heat on the stovetop.

 Mix in sliced banana and add any desired toppings (shredded coconut, banana chips, chia seeds, etc.).
Nutrition
Serving:
1
cup
Calories:
594
kcal
Carbohydrates:
75
g
Protein:
9
g
Fat:
31
g
Saturated Fat:
26
g
Sodium:
44
mg
Potassium:
764
mg
Fiber:
8
g
Sugar:
36
g
Vitamin A:
38
IU
Vitamin C:
8
mg
Calcium:
84
mg
Iron:
4
mg