Nutella Smoothie
Are you looking for a tasty treat that will help in gaining or maintaining weight? Well, look no further! This 1500 calorie smoothie is not only delicious, but it can also help with certain weight gain goals. It is especially good for those without much of an appetite.
Ingredients for the Nutella Smoothie
This smoothie only needs six ingredients. Many of these ingredients contain loads of healthy nutrients, and they can be easily bought at a grocery store or delivered to your home.
Below are the ingredients you need:
1 cup whole milk
1/2 cup nutella
1 frozen banana
1 cup strawberries
1/2 cup heavy whipping cream
1/2 cup greek yogurt
To make sure that this ends up high in calories, it is best to stay away from any low-fat, no fat, and/or lower calorie variations of any of the ingredients. Otherwise, you will end up getting less calories than you had hoped.
Benefits of Drinking the Nutella Smoothie
Bananas help moderate blood sugar by lowering appetite and slowing the rate at which the stomach empties. Another great banana recipe to try is our High Calorie Banana Delight Pudding.
Strawberries are rich in Vitamin C, manganese, folate, and potassium. They are an excellent source of antioxidants and help regulate blood pressure.
Greek yogurt is an excellent source of protein, aiding in muscle development and recovery. Greek yogurt is also a great source of Vitamin A, B2, B5, phosphorus, calcium, and selenium.
When is a Good Time to Drink the Nutella Smoothie?
This smoothie is a quick, easy, and delicious option for breakfast. When you are in a hurry, you can take it with you to go.
You can also drink this smoothie before starting an intense workout! There should be enough energy provided to last you through your rigorous workout routine. The protein can help in promoting muscle growth and promote recovery.
Another option is to consume the Nutella smoothie as a post workout meal. If you want more ideas for high calorie shakes and smoothies, try our High Calorie Shakes E-Book.
How to Make the Nutella Smoothie
Make sure to look at the ingredient list when adding the items into the blender cup. You need to add them, in order, from top to bottom. Then blend until the consistency is smooth and without chunks. Finally, pour the finished Nutella smoothie into a 14 oz or larger cup.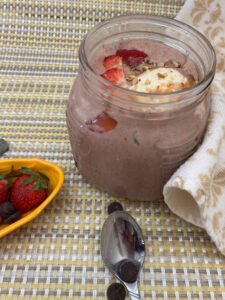 Optional Variations to the Nutella Smoothie
This delicious smoothie is sure to be a favorite, but if it gets old here are a few variations to keep it interesting.
Banana:
Applesauce
Avocado
Chia Seeds
Yogurt
Etc.
Peanut Butter: 
Almond Butter
Cashew Butter
Walnut Butter
Chia Seeds
Flax Seeds
Etc.
Whole Milk:
Coconut Milk
Half-and-half
Goat Milk
Oat Milk
Soy Milk
Almond Milk
Rice Milk
Etc.
What Tastes Delicious with this Nutella Smoothie?
Pairing oatmeal and berries with this Nutella smoothie will make a sweet combination. The smoothie is a good replacement for cookies and there will most likely be no sugar crash after consumption.
Eating peanuts and dried cranberries while sipping on this smoothie is also a tasty combo. You get sweet and salty flavors along with a great source of protein that will help provide you with energy throughout the whole day.
Another food combination to enjoy with your Nutella smoothie are hummus and crackers. They provide you with a smooth and crunchy snack along with your smoothie.
Guacamole and carrots with this smoothie are a tasty and nutritious combo. Replacing chips with veggies adds extra fiber and nutrients to your snack. You can easily make guacamole from mini avocado packages and take your food on the road.
Rolling up some deli meat with whatever you want inside will definitely give you a nice salty flavor with your Nutella smoothie. You can add more fiber and nutrients by putting vegetables inside of the meat.
How to Store Extra Smoothie?
You can store your leftover smoothie in the refrigerator. If you do this, you should finish it the same day. You may need to re-blend with more liquid or stir in extra milk in case the smoothie gets too thick.
Another option for storage of your leftover Nutella smoothie is the freezer. Although it will take longer to thaw, the smoothie should stay good for about a month. You could also make leftover smoothie into high calorie freezer pops as a cool treat for later.
We Finally Reach the Recipe
Now let's take a look at the instructions for making the smoothie.

Nutella Smoothie
This high calorie smoothie is a delicious way to gain or maintain weight!
Ingredients
1

cup

whole milk

1/2

cup

nutella

1

medium

banana

frozen

1

cup

strawberries

fresh or frozen

1/2

cup

heavy whipping cream

1/2

cup

greek yogurt
Instructions
Add all ingredients, in order from top to bottom, into a blender or blender cup. Blend until smooth (without chunks) using the smoothie button if it is an option.

Pour into 14 oz or larger drinking cup.
Nutrition
Serving:
1
Smoothie
Calories:
1588
kcal
Carbohydrates:
154
g
Protein:
32
g
Fat:
97
g
Saturated Fat:
75
g
Polyunsaturated Fat:
2
g
Monounsaturated Fat:
13
g
Trans Fat:
0.01
g
Cholesterol:
169
mg
Sodium:
225
mg
Potassium:
1938
mg
Fiber:
15
g
Sugar:
123
g
Vitamin A:
2257
IU
Vitamin C:
97
mg
Calcium:
682
mg
Iron:
8
mg
IMPORTANT: make sure texture is adequate to avoid choking hazard.