Looking for another tasty smoothie idea? Well, look no further! Here we have the spinach peanut butter smoothie recipe! Peanut butter is typically high in calories, so this spinach peanut butter smoothie can help stop unintended weight loss and promote weight gain.
Ingredients for the Spinach Peanut Butter Smoothie
The spinach peanut butter smoothie only requires six ingredients, so it should not be too complicated to make! Out of all the ingredients, the majority of the calories should come from the yoghurt, milk, and peanut butter!
Below are the ingredients you need:
1 banana (fresh or frozen)
½ cup Greek yoghurt
½ cup whole milk
2 Tbs. peanut butter
1 cup spinach leaves
1 Tbs. honey
In order to consume as many calories as possible, you should avoid low fat, low calorie, reduced fat, reduced calorie, and any zero fat foods. Above all, your Greek yoghurt, whole milk, and peanut butter should be full fat.
Benefits of Drinking the Spinach Peanut Butter Smoothie
Bananas have nutrients that help to moderate blood sugar levels after meals. Additionally, they may decrease your appetite through slowing the emptying of the stomach. Also, bananas are low to medium on the glycemic index, which measures the pace food increases blood sugar levels.
Greek yoghurt has tons of nutrients! One serving of it may have 12 to 17.3 grams of protein. This is a higher protein value compared to that in milk. In addition, one cup of Greek yoghurt can help in meeting the recommended dietary guideline for dairy products.
Milk contains 8 grams of protein in just 1 cup! Protein helps with growth and development, cellular repair and immune system regulation. It is also considered a complete protein because it has all nine of the amino acids needed for the body to function optimally.
Peanut butter is an excellent source of protein! It contains 25 grams of protein (15% of calories) in only a single 100-gram portion. Moreover, peanut butter only contains 20% carbs, and causes an extremely low rise in blood sugar. This makes it a good option for people with type 2 diabetes.
Spinach is packed with vitamins, minerals, and antioxidants that can help with anti-inflammation and disease protection. For example, one study has shown that spinach-derived substances can lower oxidative stress, DNA damage, and disease. In addition, some studies suggest that spinach may that may increase feelings of fullness.
When Should I Drink My Smoothie?
To encourage the most weight gain, it is best to drink your smoothie as a snack between meals. Adding two to three high calorie snacks in between your meals throughout the day gives you a better chance of gaining weight and keeping it on.
You can also consume this spinach peanut butter smoothie right before bed. The calcium inside of the milk helps with relaxation and falling asleep with tryptophan. The banana has melatonin, serotonin, and magnesium which will assist your muscles in becoming less tense.
The spinach peanut butter smoothie should provide your body with plenty of carbohydrate and protein before a workout! Carbohydrates help with fueling your muscles. Post-workout items should help with replenishing nutrients lost, and this includes protein for muscle repair.
How to Make the Smoothie
First, put a banana, Greek yoghurt, milk, peanut butter, spinach leaves, and honey into a blender. Then blend all of the ingredients until a smooth textured mixture is formed. Finally, pour it into a glass and enjoy!
Optional Variations to the Spinach Peanut Butter Smoothie
Below are some suggestions for alternate ingredients to change up the taste. Of course, you are not limited to only the items listed below!
Banana
Sweet Potato
Chia Seeds
Avocado
Canned Pumpkin
Frozen Veggies
Coconut Cream
Rolled Oats
Frozen Fruit
Quinoa
Etc.
Greek Yoghurt
Coconut Cream
Almond Milk Yoghurt
Chia Seeds
Protein Powders
Etc.
Whole Milk
Cream or Half-and-Half
Evaporated or Powdered Milk
Water (or Water and Butter)
Nut Milk
Soy Milk
Oat Milk
Rice Milk
Etc.
Peanut Butter
Sunflower Butter
Almond Butter
Soy Butter
Pea Butter
Etc.
Spinach
Kale
Dandelion Greens
Swiss Chard
Collard Greens
Parsley
Beet Greens
Lettuce
Turnip Greens
Bok Choy
Broccoli Raab/Rapini
Mustard Greens
Strawberry Tops
Carrot Greens
Radish Greens
Celery Greens
Etc.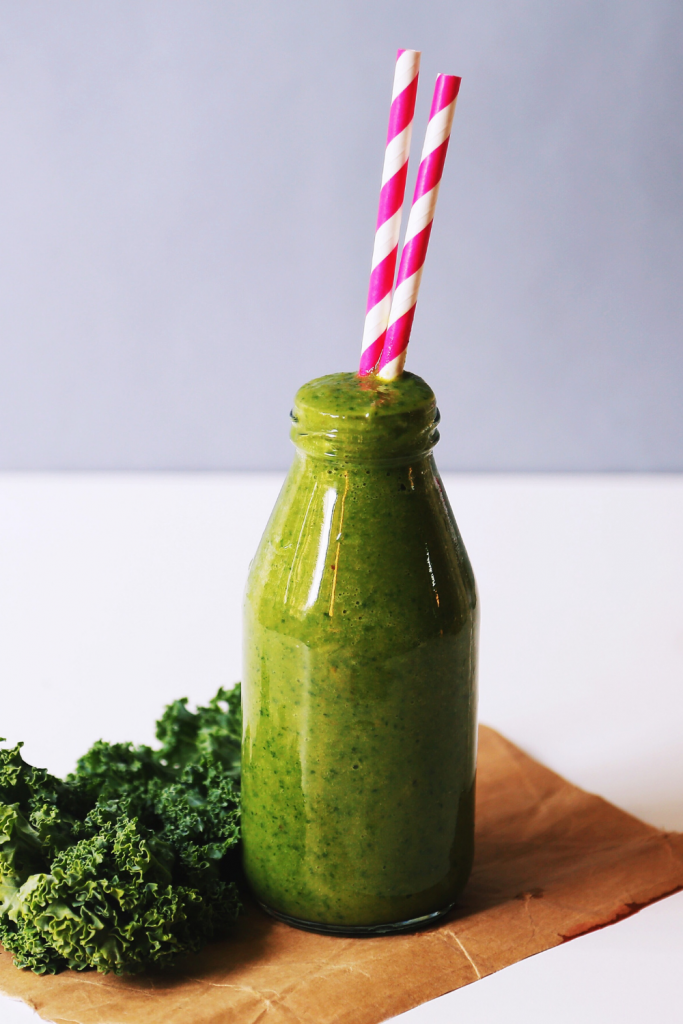 How to Store Extra Smoothie?
This smoothie is best enjoyed right after it is made and should be completely consumed on the day you make it. However, if you are unable to finish it all or you want to save some for another day, you can freeze it for later. This will taste best if used within a month. Similarly, smoothie leftovers can also be poured into popsicle molds for a cool, sweet treat later.
For more high calorie smoothie recipes, check out the High Calorie Shakes E-Book or our recipe for our Almond Butter Weight Gain Shake.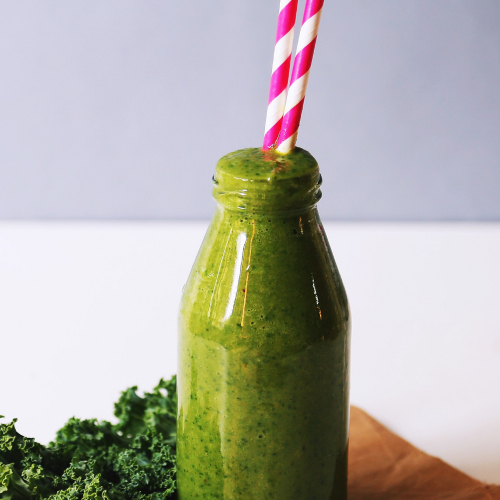 Spinach Peanut Butter Smoothie
The spinach peanut butter smoothie provides your body with plenty of carbohydrates and protein before a workout! A delicious way to fuel your muscles or slow weight loss.
Ingredients
1

banana

fresh or frozen

½

cup

Greek yogurt

½

cup

whole milk

2

Tbsp

peanut butter

1

cup

spinach leaves

1

Tbsp

honey
Instructions
Add banana, Greek yogurt, milk, peanut butter, spinach leaves and honey into a blender.

Blend ingredients until a smooth mixture is formed.

Pour into a glass and enjoy!
Nutrition
Calories:
495
kcal
Carbohydrates:
61
g
Protein:
24
g
Fat:
21
g
Saturated Fat:
6
g
Trans Fat:
1
g
Cholesterol:
17
mg
Sodium:
259
mg
Potassium:
1106
mg
Fiber:
6
g
Sugar:
44
g
Vitamin A:
3084
IU
Vitamin C:
19
mg
Calcium:
294
mg
Iron:
2
mg