Article by Annie Phillips, Edited by Paulina Alvellin. Final edit by Janina Phillips, LD, RD
If you are looking for an indulgent, high calorie breakfast then this recipe for peanut butter stuffed French toast is perfect for you. This 700 calorie breakfast is full of healthy fats and protein and of course full of flavor.
This recipe is perfect for those of you with a sweet tooth who are looking for high calorie recipes to stop unintended weight loss, fuel athletic training, or promote weight gain.
The stuffed peanut butter melts and becomes warm and creamy when cooked with the French Toast. If you are looking for a way to upgrade your usual French Toast, give this 700 calorie breakfast a try.
If you like this recipe, there are plenty more like it in our High Calorie RECIPES e-book.
How to Make Peanut Butter Stuffed French Toast
French Toast is a delicious breakfast that may seem difficult but is actually very simple to make. It only really requires a few staple ingredients: bread, peanut butter, milk or cream, eggs, and flavorings like cinnamon, vanilla, or anything your taste buds desire.
To make French Toast, simply mix together the cream, eggs, cinnamon, and vanilla in a bowl. Make a basic peanut butter sandwich with the bread and peanut butter. Soak both sides of your sandwich in the egg mixture so they are sufficiently coated, and place the soaked bread in a pan.
This gives your bread the indulgent eggy and rich taste that French toast is known for.
French Toast can be made on any cooking surface like a griddle or skillet. The easiest method is to place the toast in a buttered skillet.
Type of Bread
French Toast can be made using any type of bread so feel free to use whatever bread you have. That being said, there are some types of bread that make a tastier French Toast.
This recipe calls for Brioche bread. Brioche is a buttery, eggy bread that is light and very fluffy. Because it is so fluffy, it will have a more appealing taste when soaked in the egg and cream mixture.
Other good breads that work well as French Toast include French Bread, sourdough, Challah, and a firm white bread. The trick is picking a sturdy bread that can soak in the mixture without falling apart.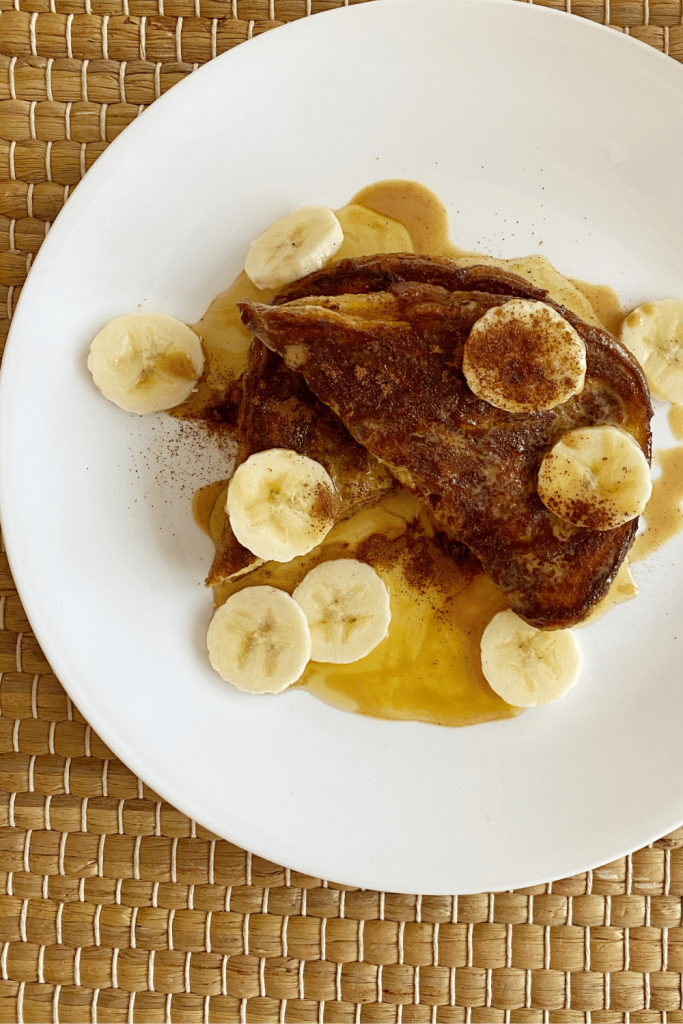 Another great tip when choosing your bread is to use day old bread or even stale bread because this will help the bread absorb more of the egg mixture.
Type of Milk or Cream for a 700 calorie breakfast
When making your egg mixture, you can use whatever milk, cream, or milk substitute you prefer.
Dairy Options:
Whole Milk
Heavy Cream
Half and Half
The key here is to try to choose full fat dairy products in order to boost the calories of the recipe.
If you are dairy free or lactose intolerant, there are plenty of substitutes you could use instead.
Nondairy Options:
Coconut Milk
Almond Milk
Oat Milk
Soy Milk
Flavorings and Sweeteners
When making this Peanut Butter Stuffed French Toast, it is important to add flavorings and/or sweeteners to the egg mixture to make sure it does not taste like scrambled eggs. Some classic flavors for French Toast are cinnamon, vanilla, and maple syrup.
Other flavoring options:
Honey
Agave
Stevia
Confectioner's Sugar
Nutmeg
Pumpkin Pie Spice
This recipe is also special because it is stuffed with melty, delicious peanut butter. Any kind of nut butter or nut free butter would work as well.
Almond butter
Cashew Butter
Sunflower Butter
Nutella
The nut butter in this recipe boosts the calories and provides healthy fats. It is one of the best parts of this 700-calorie breakfast!
Toppings
This Peanut Butter Stuffed French Toast tastes great on its own, but if your craving something extra toppings are the way to go. You can put any type of fruit on top or drizzle with maple syrup or both.
High Calorie Toppings
Banana
Whipped Cream
Confectioner's Sugar
Full Fat Greek Yogurt
Maple Syrup/Honey
Benefits of 700 Calorie Breakfast French Toast
This recipe is full of several high calorie foods (eggs, peanut butter, heavy cream). There are also plenty of healthy fats in the peanut butter and protein in the eggs.
It is a great recipe because it easy to make, provides so many variety, is not time consuming and it can be even made ahead and reheated whenever you are ready to eat. Let's not forget that its delicious!
This breakfast will satisfy anyone with a sweet tooth and give you a boost of calories and nutrition. If you enjoy it, try this recipe for another high calorie breakfast idea. I hope you enjoy this 700-calorie breakfast idea!

700 calorie Peanut Butter Stuffed French Toast
If you are looking for an indulgent, high calorie breakfast then this recipe for Peanut Butter Stuffed French Toast is perfect for you. It is full of healthy fats, protein, and flavor.
Ingredients
2

slices

brioche bread

1

Tbsp

creamy peanut butter

1

large

egg

2

Tbsp

heavy cream

1/4

tsp

ground cinnamon

1/2

tsp

vanilla extract

1

Tbsp

butter

2

Tbsp

maple syrup
Instructions
Begin by spreading the peanut butter on one of the slices. Press the bread slices together with the peanut butter between them.

In a shallow bowl ort pan, whisk together the egg, heavy cream, cinnamon, and vanilla.

Place bread in the egg mixture and flip the bread a few times to make sure the bread is fully coated.

Melt butter in a frying pan or griddle over medium heat.

Allow any excess egg to drip off bread. Once the pan is hot and the butter is melted, gently place the bread into the pan.

Cook bread on each side until golden brown, about 3 minutes per side.

Drizzle with maple syrup and enjoy!
Nutrition
Calories:
789
kcal
Carbohydrates:
83
g
Protein:
21
g
Fat:
42
g
Saturated Fat:
19
g
Trans Fat:
1
g
Cholesterol:
311
mg
Sodium:
662
mg
Potassium:
416
mg
Fiber:
4
g
Sugar:
28
g
Vitamin A:
1286
IU
Vitamin C:
1
mg
Calcium:
205
mg
Iron:
4
mg