Written by Jessica Malone. Edited by Janina Phillips, LD, RD
Love baking, but looking for something other than banana bread to try out? Then this recipe for date and walnut loaf is for you!
This is a sophisticated baked loaf with great flavor and texture, thanks to the dates and walnuts. But have no fear, it won't end up tasting like a Christmas fruit cake!
Low Sugar Recipe
If you are limiting your refined sugar intake, this recipe is is a great choice. That's because it only uses a ½ cup of table sugar in the entire loaf.
Now, you may be trying to cut back on sugar intake for health, taste preference, or for other reasons. Here is a quick low-down on sugar.
Sucrose is the scientific name for refined sugar (or table sugar). It is generally extracted from sugar cane or sugar beets and consists of 50% glucose and 50% fructose. These are natural sugars found in fruits, vegetables, grains, and other carbohydrates.
Though all types of sugar will affect blood glucose levels, the form and amount will be the key difference. Without the natural fiber that comes with eating the food (i.e. fruit, vegetable, grain), blood glucose levels will generally rise quickly after eating. For more information on the importance of fiber intake check out this article at The Geriatric Dietitian.
This can be problematic for those who have difficulty with blood sugar regulation or diabetes. Eating a large amount of refined sugars at one time can give you a burst of energy. Sudden tiredness and even unexpected hunger can quickly follow.
USDA's Dietary Guidelines for Americans recommend limiting added sugars in food to 10% of calories per day for general health. Keep in mind, this standard is primarily used to encourage folks to limit their processed food and beverage consumption.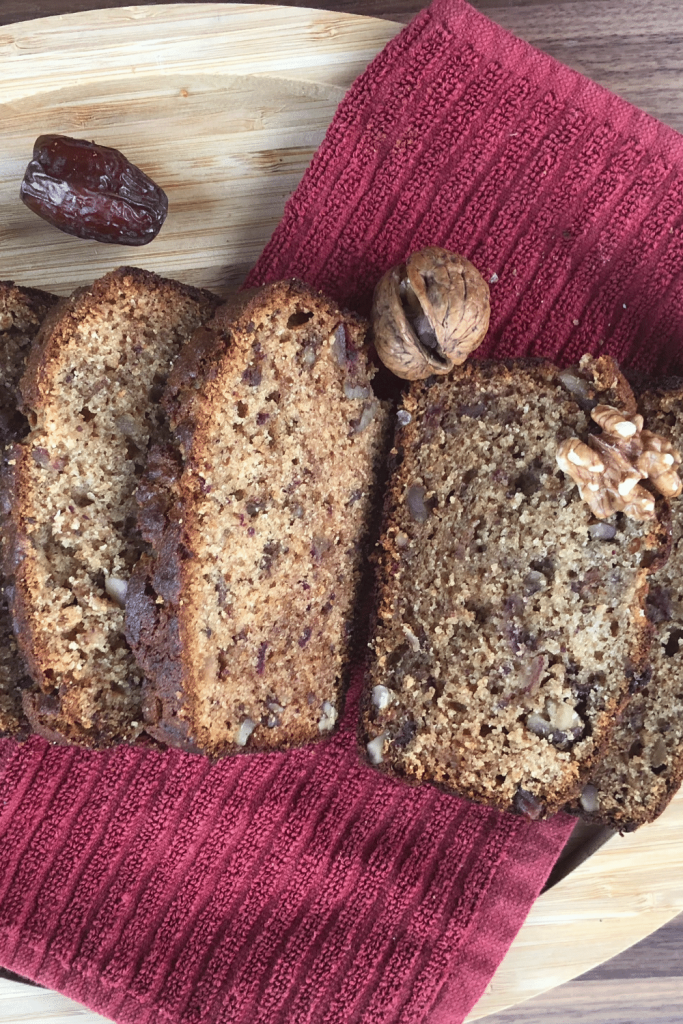 The good news is that cooking and baking at home gives one the power to control the amount of sugar in their foods and overall diet. And guess what? This date and walnut loaf is a perfect example of how to do just that!
Milk Infusion for a Sweeter Date and Walnut Loaf
The idea of a low sugar recipe may sound great, but you may be wondering if this date and walnut loaf will really be sweet enough to satisfy your sweet tooth? Baked goods are supposed to be delicious, after all!
Have no fear, this baked loaf uses dates in a very special way to add a tremendous amount of flavor and sweetness to the loaf.
Dates are an exceptionally sweet, dried fruit that have been used in cooking and sweet treats for centuries. They are wonderfully sweet on their own, or added to any dish of your choosing.
But in this recipe, you will use the date to infuse the milk, which will help to soften the dried dates and impart even more of its sweetness into the whole loaf.
In cooking, an infusion is the technique of soaking an herb, spice, or flavoring in a heated liquid. The purpose is for extracting some of the the natural compounds and flavors within that food. You can infuse a soup stock with herbs, tea with mint and lemon, and even lavender in a syrup.
Learning to infuse is very simple, and is a great trick to use to elevate your cooking and baking.
Variations for walnuts and Food Allergy Alternatives
What kind of blog recipe would this be without alternative options? If you have specific food preferences or allergies, this is an important section for you!
First, let's tackle the nuts. If an allergy, intolerance, or dislike of nuts is holding you back, substitute a different nut or omit the walnuts all together. You can also use a substitute for the almond flour in this date and walnut loaf.
Almonds, pistachios, pecans, and just about any other nuts is a great alternative for walnuts. And do remember, seeds are an excellent alternative for those with an allergy to tree nuts.
To substitute the almond flour, coconut flour is a great alternative. If you don't have coconut flour in your pantry, omit the almond flour and add another cup of all-purpose flour.
Avoid dairy by substituting dairy alternative milk. Any milk will work for the milk infusion in this recipe, though a variety that has as few additives and thickeners as possible may work better. These can clump up during the infusion process. If this happens, it's no biggie. Use a strainer to remove any unwanted clumps!
You could also omit the milk powder and substitute the butter for dairy alternative butter or coconut oil.
Make this date and walnut loaf gluten free by using an all-purpose gluten free flour. However, gluten free baked products tend to require more liquid and fat to remain moist after baking.
How to best enjoy your date and walnut loaf
You can enjoy your fresh baked date and walnut loaf in any way you fancy!
A slice with some drizzled honey or marmalade would be a decadent snack or dessert. Spreading it with peanut butter or cream cheese can add extra flavor and calories and make it a satisfying part of your breakfast. You can also serve it plain, along with some sliced fruit, or topped with any of your other favorite toppings.
Store your loaf in the fridge to preserve moisture and prolong the shelf life for up to 5 days. If you can't finish your loaf in this time, you can always slice and freeze this loaf to enjoy later.
If you are looking for other high calorie breakfast ideas, try our high calorie peach muffins!

Date and Walnut Loaf
A moist and delicious loaf full of sophisticated flavor and calories to prevent unintended weight loss.
Ingredients
1

cup

whole milk

1 1/2

cups

dates

chopped

1/2

tsp

baking soda

1/2

cup

butter

softened

1/2

cup

sugar

2

eggs

1

cup

almond flour

1

cup

all-purpose flour

1/3

cup

milk powder

1

tsp

baking powder

1/2

tsp

ground cinnamon

1/2

cup

walnuts

chopped
Instructions
Heat 1 cup of milk in a pan until boiling.

When milk has boiled for 1-2 minutes, turn off heat but do not remove pan from stove.

Add the chopped dates and baking soda to the milk, stirring to separate the dates.

Let sit for 15-20 minutes.

Preheat oven to 340 degrees F.

Prepare the baking pan by greasing with softened butter and coating with flour. (alternatively, Baker's Joy cooking spray may be used, or you can line the pan with parchment paper.)

In a separate bowl, combine flours, milk powder, baking powder, and ground cinnamon. These may be sifted or stirred with a whisk to break up any lumps.

In a large bowl, mix the softened butter and sugar until creamy.

Add half of the flour mixture and gently mix with spatula.

Add remaining half of the flour mixture and mix until ingredients are just combined. (about 10 strokes)

Fold the chopped walnuts into the batter, taking care not to overmix.

Pour batter into baking pan and bake in preheated oven for about 50-60 minutes until done. Check by inserting toothpick into center of loaf, if it comes out clean, the loaf is fully cooked.

Remove the pan from the oven and put directly on a wire rack to cool for about 10 minutes.

When it is cool enough to handle, run a butter knife around the edges of the pan to loosen the loaf, remove loaf allow to finish cooling on wire rack.

When loaf is cool, cut and enjoy fresh or toasted for extra crunch.

Serve with coffee, tea, or any way you prefer!
Nutrition
Calories:
630
kcal
Carbohydrates:
70
g
Protein:
14
g
Fat:
36
g
Saturated Fat:
13
g
Trans Fat:
1
g
Cholesterol:
106
mg
Sodium:
363
mg
Potassium:
479
mg
Fiber:
6
g
Sugar:
46
g
Vitamin A:
688
IU
Vitamin C:
1
mg
Calcium:
229
mg
Iron:
3
mg