Blueberry Peanut Butter Smoothie
Our blueberry peanut butter smoothie is a tasty treat, and can help those struggling to maintain their weight. This smoothie provides a whopping 740 calories and is jam-packed with nutrition. 
Ingredients for the Blueberry Peanut Butter Smoothie
This smoothie has five ingredients. If you want to swap out ingredients, we'll give you some tips later in the article.
Below are the ingredients you need:
1 cup whole milk
1 banana
1/2 cup blueberries
1/4 cup peanut butter
1 tbsp chia seeds
Make sure to stick with whole milk as it is the highest calorie milk option available. If you want even more calories, swap the milk with cream or half and half.
Benefits of Drinking the Blueberry Peanut Butter Smoothie
Peanut butter contains vitamin E, B3, manganese, vitamin B6, magnesium, and copper. It has heart healthy fats, and is super high in calories.
Bananas also have a high number of calories. A single banana contains >100 calories (depending on the size of the banana. If you love bananas, check out our High Calorie Banana Delight Pudding!
Whole milk is high in calories and protein. It is also full of vitamins and minerals like calcium, phosphorus, potassium and vitamins B and D.
Chia seeds are an excellent source of omega-3 fats and fiber. They can help fight constipation and improve colon health.
Blueberries are a great source of antioxidants. Antioxidants help protect your body from free radicals, which contribute to aging and diseases.
Fresh or Frozen Blueberries?
Use whichever type of blueberries you have on hand. Frozen blueberries are frozen at the peak of freshness so they still contain good nutrition.
Frozen blueberries will make for a colder smoothie. You can also freeze your fresh blueberries if you want a cold smoothie.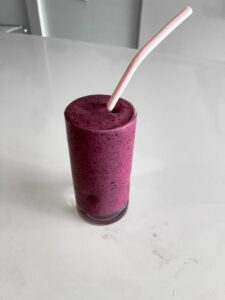 Optional Variations to the Blueberry Peanut Butter Smoothie
This smoothie recipe is a tasty one. But, if you aren't a fan of one of the ingredients or want to try something different, try these swaps for the ingredients.
Banana-swap with:
Applesauce
Avocado
Chia Seeds
Avocado
Yogurt
Etc.
Peanut Butter-swap with: 
Almond Butter
Cashew Butter
Walnut Butter
Chia Seeds
Flax Seeds
Etc.
Whole Milk-swap with:
Coconut Milk
Half-and-half
Cream
Goat Milk
Oat Milk
Soy Milk
Etc.
Blueberries-swap with:
Raspberries
Strawberries
Blackberries
Huckleberries
Etc.
Storing Leftover Smoothie
If you are unable to finish your smoothie, store it in the refrigerator. If you do this, you should finish it the same day. You may need to re-blend with more liquid or stir in extra milk in case the smoothie gets too thick.
Another option for storage of your leftover Blueberry Peanut Butter smoothie is the freezer. It will take a bit longer to thaw out before it's ready to drink, but the smoothie should stay good for about a month.
You could also pour the leftover smoothie into ice-cube trays, then add the "smoothie ice" to the blender with some more whole milk for an easy, new smoothie.
Making Your Smoothie
Now let's take a look at the instructions for making the smoothie.

Blueberry Peanut Butter Smoothie
This delicious high calorie smoothie is jam-packed with nutrition!
Ingredients
1

cup

whole milk

1

medium

banana

1/2

cup

blueberries

fresh or frozen

1/4

cup

peanut butter

1

tbsp

chia seeds
Instructions
Add all ingredients, in order from top to bottom, into a blender or blender cup. Blend until smooth (without chunks) using the smoothie button if it is an option.

Pour into a 14 oz or larger drinking cup.
Nutrition
Serving:
1
Smoothie
Calories:
737
kcal
Carbohydrates:
68
g
Protein:
26
g
Fat:
45
g
Saturated Fat:
12
g
Polyunsaturated Fat:
11
g
Monounsaturated Fat:
18
g
Trans Fat:
0.02
g
Cholesterol:
29
mg
Sodium:
373
mg
Potassium:
1258
mg
Fiber:
12
g
Sugar:
40
g
Vitamin A:
517
IU
Vitamin C:
18
mg
Calcium:
418
mg
Iron:
3
mg
IMPORTANT: make sure texture is adequate to avoid choking hazard.