High Calorie Bars [Baked Berry Oatmeal]
These High Calorie Bars [Baked Berry Oatmeal] are a delicious option for breakfast or a filling snack. Packed with sweet berries, they are a great way to use the summer bounty or the frozen ones living in the back of your freezer!        
High Calorie Bars [Baked Berry Oatmeal] Recipe
Having a serving of these High Calorie Bars [Baked Berry Oatmeal] can help reach your weight gain or weight maintenance goals. The bars can be prepared ahead of time, so you have breakfast made for the week!
Let's discuss the nutritional value of the bars. They are high in protein, just one bar has 9 grams of protein. The majority of the protein comes from the whole milk, eggs, and oatmeal.
Protein has many benefits including keeping you fuller, longer, and are the building blocks for your bones and muscles!
Eating a variety of protein sources can help increase your intake of important nutrients. In this High Calorie Bars [Baked Berry Oatmeal] recipe, the whole milk provides calcium and vitamin D, and the oatmeal provides dietary fiber.
Benefits of Berries
This High Calorie Bars [Baked Berry Oatmeal] recipe uses berries to add a punch of flavor! Berries are high in antioxidants which reduce the impact of oxidative stress in your body. They are also high in vitamin C and contain dietary fiber.
Fresh vs Frozen
You can use fresh or frozen berries in this recipe, and you will still get the same benefits and delicious flavor! However, frozen berries can be a great option because they are frozen at peak freshness and the antioxidant levels can be even better than fresh.
Frozen berries can also be a cost effective option.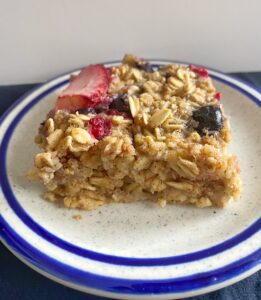 Ingredients for High Calorie Bars [Baked Berry Oatmeal]
This recipe includes the following ingredients:
Rolled oats
Baking powder
Cinnamon
Salt
Eggs
Whole milk
Honey
Peanut butter or almond butter
Vanilla extract
Berries
Swaps for High Calorie Bars [Baked Berry Oatmeal]
If you do not have these specific ingredients on hand, there are alternative options that will work just as well!
Rolled Oats- swap with quick oats
Honey- swap with maple syrup
Peanut Butter/Almond Butter- any other nut or seed butter you prefer
Berries- you can use fresh or frozen, any type of berries. Some great variations to try are blueberries, raspberries, blackberries, strawberries, mulberries, or huckleberries.
Other High Calorie Recipes
If you like berries, be sure to check out our Blueberry Peanut Butter Smoothie. This recipe provides over 700 calories. And you can swap out the blueberries with any type of berry you choose!
You can find more high calorie resources on our Shop Page.
Let's Check Out the Recipe!

High Calorie Bars [Baked Berry Oatmeal]
These delicious bars are sure to be a winner for busy mornings!
Ingredients
2

cups

rolled oats

1

tsp

baking powder

1

tsp

cinnamon

1/2

tsp

salt

2

eggs

1 3/4

cup

whole milk

1/4

cup

honey

2

tbsp

peanut butter or almond butter

1

tsp

vanilla

2

cups

berries

fresh or frozen, any variety
Instructions
Line a 9X9 inch baking pan with parchment paper and spray with nonstick cooking spray.

In medium mixing bowl, stir together the eggs, milk, honey, nut butter*, and vanilla.

In a large bowl, mix the oats, baking powder, cinnamon, and salt.

Add the liquid mixture to the dry ingredients and stir together until just combined. Next, fold in the berries, reserving a few for the top.

Pour the mixture into the lined and greased baking pan, and arrange the reserved berries on top.

Bake for 35 to 40 minutes until set.

Let cool in the pan before slicing into six servings.
Notes
*Natural, more runny nut butters tend to mix in the best for this recipe. If you are using a thicker nut butter, try heating it in the microwave for 30 seconds and then add it to the liquid mixture.
Nutrition
Serving:
1
Bar
Calories:
270
kcal
Carbohydrates:
41
g
Protein:
9
g
Fat:
8
g
Saturated Fat:
3
g
Polyunsaturated Fat:
2
g
Monounsaturated Fat:
3
g
Trans Fat:
0.01
g
Cholesterol:
63
mg
Sodium:
338
mg
Potassium:
293
mg
Fiber:
5
g
Sugar:
20
g
Vitamin A:
219
IU
Vitamin C:
1
mg
Calcium:
160
mg
Iron:
2
mg