Peanut Butter S'mores Bars
Craving s'mores, but don't want the sticky mess? These high calorie Peanut Butter S'mores Bars are a delicious and mess free option and don't require a campfire!
These Peanut Butter S'mores bars are no-bake and great for any time of the year. Bring them to your next end of summer party or enjoy them at home as a sweet treat!
High Calorie Dessert Peanut Butter S'mores Bars
High calorie desserts are a great way to help reach your goals of gaining or maintaining weight.
Gaining weight or keeping on weight are serious issues that many people face. This can happen from a reduced appetite, being underweight, or if they are at risk of malnutrition. 
There are many reasons why someone may be struggling with gaining weight or a reduced appetite which can lead to not consuming enough calories throughout the day. This can become a concern because you may not be meeting your body's needs. 
Why is Eating an Adequate Amount of Calories Important?
Not eating enough calories throughout the day can lead to many issues including malnutrition. Malnutrition occurs when someone is not getting enough nutrients for long periods of time. This can also lead to severe deficiencies in specific nutrients.
There are less severe problems that can arise from not eating an adequate amount of calories each day. Food is energy! Not eating enough to fuel your day can lead to feeling sluggish or tired.
If you exercise regularly, it is even more important to ensure you are consuming enough food to fuel your day and your body for your workout. Protein helps to build and repair muscle, and carbohydrates give you the energy you need to make it through those tough spin classes!
Your food intake also contributes to about 20% of your overall water intake. Considering the average American does not consume the recommended daily amount of water, not eating enough can also contribute to dehydration.
Not only does your body rely on an adequate amount of calories to survive, so does your brain! Have a big test or important meeting coming up? Be sure to eat a proper meal to give your brain the energy boost it needs to do its best.
Consuming a low amount of calories can also affect your gut health. Our digestion and gut health relies on intaking enough water and a variety of nutrients to keep it healthy and working properly.
Eating a low amount of calories can lead to constipation and feeling bloated, or other gut related issues. The food we eat directly relates to our gut health! 
If you would like to learn about how to gain weight healthfully, check out this article!
When to Eat Peanut Butter S'mores Bars
These Peanut Butter S'mores bars are delicious as dessert at the end of the day! The whole family will enjoy them, and they require minimal effort and no oven or campfire.
Take these bars to your next summer gathering as the perfect potluck dessert or even as a hostess gift. They would also be a great choice for a birthday party instead of a cake!
Another great potluck dessert option is our Highest Calorie Chocolate Pie.
Peanut Butter S'mores Bars Ingredients
These are the ingredients required to make the Peanut Butter S'mores Bars.
Butter
Peanut Butter
Mini Marshmallows
Vanilla extract
Chocolate Chips
Mini Chocolate Bars or Regular Size Chocolate Bar
Honey Graham Cereal
Ingredient Swaps
If you do not have some of these ingredients on hand, or have an allergy, try out these ingredient swaps!
Butter: try swapping out for margarine or a plant based butter if you're dairy free or vegan.
Peanut butter: swap with your favorite nut butter if you have an allergy, or do not like peanut butter. Some types of nut butter that would be delicious are; cashew butter, sunflower seed butter, or hazelnut butter.
Vanilla Extract: out of vanilla? Don't worry! You can swap with another extract like almond, or even pure maple syrup!
Honey Graham Cereal: try Cinnamon Toast Crunch for more of a cinnamon flavor or Cheerios. For a chocolatey s'mores flavor, another great option would be Cocoa Puffs!
How to Make Peanut Butter S'mores Bars
Melt the butter in a large saucepan or pot over medium heat until melted, and then stir in the mini marshmallows until they are melted. Add the peanut butter and vanilla extract and stir for one minute, then turn off the heat and take it off the burner.
Now, stir in the cereal and the rest of the mini marshmallows. Mix in the chocolate chips and press into a greased baking pan. Top the cereal bars with the chocolate bars and let cool completely before cutting.
Let's Check out the Recipe!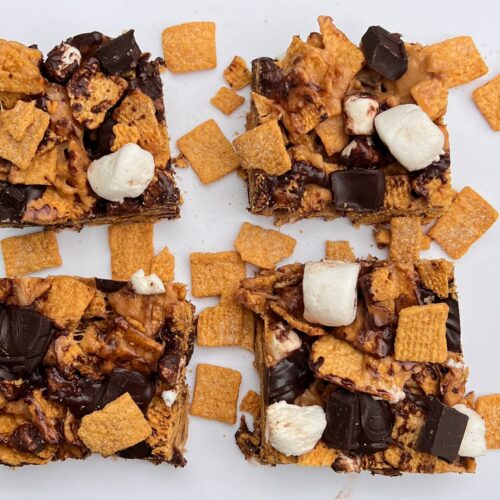 Peanut Butter S'mores Bars
These mess free s'mores bars don't require a campfire!
Ingredients
3

tbsp

butter

1/2

cup

peanut butter

8

cups

mini marshmallows

1/2

tsp

vanilla extract

10

mini

chocolate bars

or 1 regular size chocolate bar

5

cups

honey graham cereal
Instructions
Melt butter in a large saucepan over medium high heat on a stove top.

Stir in 6 cups of the mini marshmallows and let them melt in the saucepan.

Add peanut butter and vanilla, stir for one minute.

Turn off heat and take pan off of burner.

Stir in cereal and the other 2 cups of mini marshmallows. Then mix in the chocolate chips.

Press mixture into 16X19 baking pan. Then top cereal with chocolate bars.

Let cool completely before cutting into 12 bars.
Nutrition
Serving:
1
bar
Calories:
290
kcal
Carbohydrates:
51
g
Protein:
6
g
Fat:
9
g
Saturated Fat:
3
g
Polyunsaturated Fat:
2
g
Monounsaturated Fat:
4
g
Trans Fat:
0.1
g
Cholesterol:
8
mg
Sodium:
243
mg
Potassium:
165
mg
Fiber:
4
g
Sugar:
23
g
Vitamin A:
363
IU
Vitamin C:
3
mg
Calcium:
63
mg
Iron:
8
mg