Shrimp Avocado Wrap
This shrimp avocado wrap makes an excellent fresh lunch or light meal. It's also a great way to use leftover veggies and clean out the fridge. This wrap comes together in less than 20 minutes!
Selecting your shrimp
Let's talk about some helpful points in selecting shrimp for this shrimp avocado wrap. 
Shrimp is sold by the amount per pound in the U.S., which is dictated by the size of the shrimp. You'll find different labels like fractions: 15/20, which means that 15-20 shrimp make up a pound, U11, which means that fewer than 11 shrimp make up a pound, or you may even find ratings for "medium", "jumbo", or "colossal" shrimp.
You can select by size, or budget, but be aware that price and availability will vary on your location.
Shrimp, like all seafood, is highly perishable and easy to purchase incorrectly. Buying shrimp caught that day at your local store can ensure you are getting it as fresh as possible.
Check that the shrimp does not smell like ammonia or is slimy. The fishmonger will know if the catch was brought in that day. You can ask your fishmonger to pack a bag of ice to transport your fresh shrimp home. 
Shrimp found at grocery stores in the frozen aisle are flash frozen at sea and transported to stores. If you do not live in a coastal state, the shrimp have been deep frozen after catch and thawed for fresh sale. 
This is the same shrimp you'll find in the frozen aisle. The best way to avoid any chance of food-born illness is to purchase frozen shrimp, particularly the individually frozen, head-off variety.
Freeze the shrimp after purchase if not using the same day.
Ways to prepare shrimp
Thaw your frozen shrimp before cooking.The best way to thaw your shrimp is to remove it from the packaging and place in a bowl under cold, running water. This is the quickest and safest method. 
You can also leave the shrimp in cold standing water, if you don't want to leave the tap running. The water must be cold, not warm, to prevent the chance of food-borne illness.
If your shrimp has the head and shell intact, it is best to remove them before cooking. To do this, use a chef's knife and cut where the head meets the body or, use your hands to gently twist and pull the head off. To remove the shell, use the tip of a knife or your fingers to separate the shell from the body at the point where the legs attach.
The dark "vein" that runs along the back of the shrimp is actually a remnant of the digestive tract. It is not harmful to eat, but many people like to remove this with a paring knife before cooking.
You can choose to remove the tail, by gently tugging, or leave it on.
Once thawed and ready to cook, dry the shrimp off with a quick pat of a paper towel.
Cooking your Shrimp
Shrimp can be sautéed with butter or oil and your favorite spices, grilled in a basket or on skewers, or broiled in the oven for a quick meal.
To broil your shrimp, place a rack in the center of your oven and set your oven to broil. The hottest heat elements of the oven will turn on to expose the food to direct, high heat, effectively searing the food.
If broiling, toss your shrimp with some cooking oil and your favorite spices, spread out on a baking sheet, and broil for approximately 5-7 minutes. Keep an eye on the shrimp as they can cook very quickly. No need to flip the shrimp, broiling allows it to cook evenly.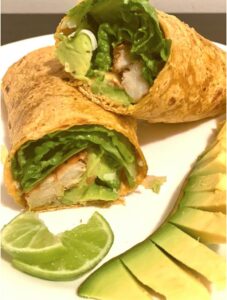 Shrimp Avocado Wrap- Quick Meal Hack! 
The only cooking this shrimp avocado wrap requires, is the shrimp. Making up a large batch of cooked shrimp at one time allows for quick and easy meal prep.  
It will only take a few minutes to throw together another shrimp avocado wrap later in the week! This "batch method" is a great way to maximize your time and effort in the kitchen.  
Store cooked shrimp in an air-tight container in the fridge and use within 3-5 days. You may also freeze the remaining cooked shrimp and use at a later date. 
You can also pre-wash/chop lettuce and slice up avocado to have on hand for wrap-making. To make meal prep even easier you can assemble several wraps at the same time to have for the week.
Modifications for the Shrimp Avocado Wrap
You can make this wrap with or without shrimp! Any protein you have on hand can be used in place of shrimp. Grilled chicken strips, turkey slices, or sliced flank steak will work well in this wrap, in place of shrimp. 
To make this wrap vegetarian, omit the animal protein and use tofu or extra veggies!
If you're doing a fridge clean out, there are more options to add variety to the wrap! Tomatoes, olives, bell pepper, shredded carrot, purple cabbage, and broccoli sprouts are some suggestions, but use whatever you like.
There are many ways to add variety to this shrimp avocado wrap!
For another great lunch option check out our Chicken Avocado Quesadilla!
Now for the Recipe

Shrimp Avocado Wrap
This delicious wrap is a great option for lunch or a snack!
Ingredients
6

large

cooked shrimp

cooked and seasoned to your liking

1/2

medium

avocado

chopped

1/4

cup

cheddar or mozzarella cheese

shredded

1/2

cup

baby spinach

1/2

cup

green lettuce

chopped

1

large

tortilla wrap

1/2

lime

salt and pepper

to taste
Instructions
Combine the lettuce, spinach, and avocado. Mix together in a bowl, and add the salt, pepper, and lime to taste.

Put the tortilla wrap in a pan until warm, then place it on a plate.

Add the lettuce, spinach and avocado mixture to the middle of the wrap. Add the shrimp and cheese, fold the wrap on the sides, and roll until everything is covered. Secure the wrap with a toothpick.
Nutrition
Serving:
1
Wrap
Calories:
444
kcal
Carbohydrates:
29
g
Protein:
24
g
Fat:
28
g
Saturated Fat:
9
g
Polyunsaturated Fat:
3
g
Monounsaturated Fat:
13
g
Trans Fat:
0.01
g
Cholesterol:
135
mg
Sodium:
912
mg
Potassium:
796
mg
Fiber:
9
g
Sugar:
3
g
Vitamin A:
3339
IU
Vitamin C:
26
mg
Calcium:
334
mg
Iron:
3
mg
Looking for more high calorie recipes? Check out our High Calorie Recipes E-Book!