This high calorie apple cinnamon pancake recipe is exactly what it sounds like. Nutritious and delicious and full of calories to help you gain weight. If you are a pancake lover, then this is a recipe you will definitely want to try!
High Calorie Pancake Recipe
First, let's talk about the nutritional aspects of this recipe. These apple cinnamon pancakes are indeed high protein. One serving of just two, four-inch pancakes delivers about 9 grams of protein.
The rolled oats, egg, and cottage cheese used to make the batter provide most of the protein. A well balanced, protein-packed breakfast is easily achievable when you pair these pancakes with eggs.
The ingredients in these high protein pancakes, as well as the apple cinnamon topping, provide a great source of calories as well. Particularly the high fat cottage cheese provides a lot of calories and protein. 
One serving of these high calorie pancake recipe comes in at over 300 calories. Unless you are pairing these apple cinnamon pancakes with some other breakfast favorites, then I guarantee you will want more!
What is cottage cheese?
If the old nursery rhyme of Little Miss Muffet sitting on a tuffet comes to mind, you're headed in the right direction! Cottage cheese is a re-branding of the curds and whey sung about in this rhyme.
But what are curds and whey, exactly?
First, an acid, enzyme, or bacterial culture is added to milk to make it curdle. This produces the lumps (curds) in a liquid substance (whey). In order to make cheese, the curds are strained from the whey.
In the case of cottage cheese, only a small amount of the whey is strained out. This keeps the curds loose and creamy. Often salt, cream, sugar, or other flavorings may be added in for taste. 
Full fat cottage cheese is exactly what it sounds like. Little to no fat has been removed from the product, and in many cases heavy cream may be added in as well. This makes cottage cheese a good idea if you are looking to consume nutritionally dense, high caloric foods. 
Some ways to enjoy cottage cheese include:
Plain with fruit and honey
Spread on a piece of toast with tomatoes
Spiced in an Indian or Middle Eastern simmer sauce
Cottage cheese also works wonders to add moisture and binding properties to muffins, cakes, and even pancakes!
If you are looking for plant based high protein foods to use as a substitute, try this Vegan Protein Sources Chart at the Geriatric Dietitian Blog.
Technique and Equipment for High Calorie Pancake Recipe
For those who have never made pancakes that don't come from a mix, these high calorie pancakes may sound a little intimidating. With the help of a blender, it really is very easy to make. 
Place all wet and dry ingredients into a blender and process until smooth. A food processor will also work, but may need a little more blending and scraping down of the processor bowl.
And that's it! Your batter is ready for your griddle. See how simple it is to homemake your own batter?
So when you're ready to cook your pancakes it is very important to use medium heat. Heat your skillet to the correct temperature before cooking. To check that it is at the proper temperature, put a droplet of water on the skillet. The droplet will hop around on the hot skillet when the correct temperature is reached. This ensures that you don't burn your pancakes while allowing the insides to cook thoroughly.  
You can use the same skillet or griddle to make the apple cinnamon topping. This minimizes the dishes used to make these tasty protein-packed apple cinnamon pancakes.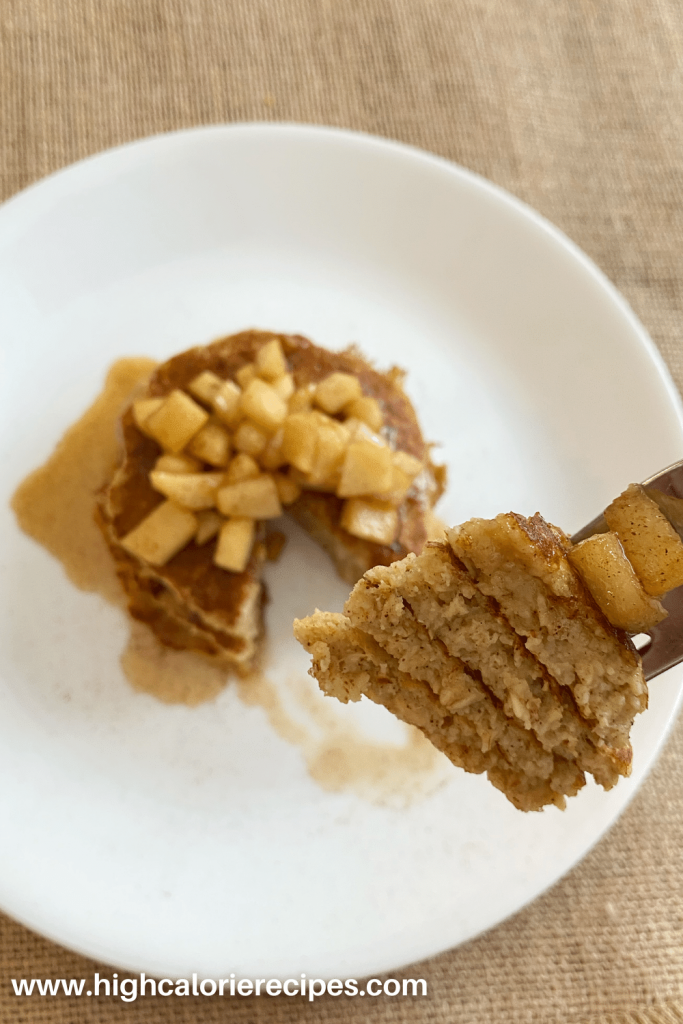 Variations
The base batter of this pancake is pretty neutral. This allows the cinnamon apple topping to be the star of the dish. There are alternative ways to use this high calorie pancake recipe.
For starters, fold the topping directly into the pancake batter and have deliciously caramelized apples right in your pancakes!
Alternately, if you are not a particular fan of apple, or want to change up the flavor profile, try pears, bananas, or strawberries!
For other delicious, high-calorie breakfast options, try these recipes:
High calorie, high protein breakfast cups
Peanut butter stuffed French toast
High protein banana nut muffin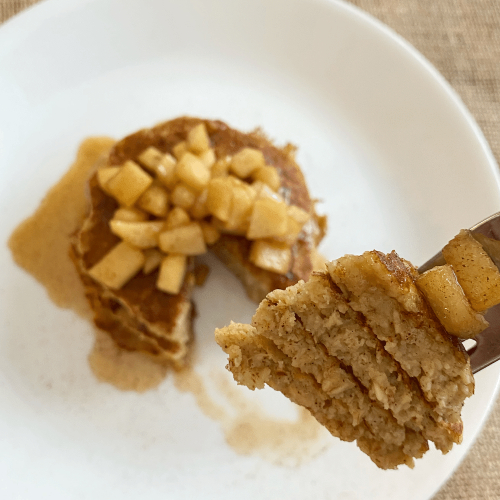 High Calorie Pancake Recipe – Apple Cinnamon
This high calorie apple cinnamon pancake recipe is exactly what it sounds like. Nutritious, delicious and full of calories to help you gain weight. If you are a pancake lover, then this is a recipe you will definitely want to try out!
Ingredients
Pancakes
½

cup

rolled oats

⅓

cup

applesauce

1

large egg

¼

cup

full-fat cottage cheese

½

tsp.

vanilla extract

1

tsp.

baking powder

½

tsp.

cinnamon

Pinch

salt
Apple Topping
½

Tbs.

butter

½

cup

diced apple

1

Tbs.

brown sugar

¼

tsp.

cinnamon

¼

cup

maple syrup
Instructions
Blend all pancake ingredients in a high-speed blender until completely smooth, about 30 seconds.

Lightly coat a medium nonstick skillet or griddle with cooking spray or butter and heat over medium heat. To form each pancake, drop ¼ cup of batter onto heated skillet.

Once bubbles appear on top and the outside edges start to brown, flip pancakes and cook the other side until golden brown. Recipe makes 4 pancakes.

To make the apple topping, melt the butter in a small saucepan. Add the diced apples, cinnamon and brown sugar. Cook until the apples are soft, about 5 minutes.

Remove from heat and add the maple syrup.

Serve pancakes with the apple topping and a sprinkle of cinnamon.
Nutrition
Calories:
333
kcal
Carbohydrates:
59
g
Protein:
9
g
Fat:
7
g
Saturated Fat:
3
g
Polyunsaturated Fat:
1
g
Monounsaturated Fat:
2
g
Trans Fat:
1
g
Cholesterol:
94
mg
Sodium:
421
mg
Potassium:
304
mg
Fiber:
4
g
Sugar:
38
g
Vitamin A:
277
IU
Vitamin C:
2
mg
Calcium:
261
mg
Iron:
2
mg